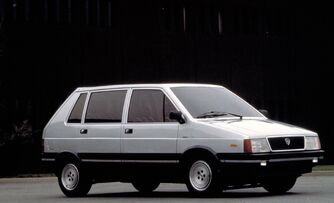 The
Lancia Megagamma
minivan is a concept car designed by
Italdesign
in 1978 and introduced the same year at the Turin Motor Show. It can be seen as the forerunner of modern MPVs which became popular in the 1980s. The car never reached production, because it was seen as too risky by Lancia's parent company Fiat and its CEO Umberto Agnelli. This concept itself addressed the needs of families, with a roomy cabin in a compact package.
The Nissan Prairie (1981) was the first modern production MPV following the Megagamma idea, later followed by models like the Mitsubishi Chariot, Renault Espace, Honda Shuttle, Toyota Sprinter Caribbean, Dodge Caravan, Plymouth Voyager, Renault Scenic and Volkswagen Touran. Lancia's own MPVs are the Zeta and current Phedra.
The Megagamma has a Lancia SOHC 2.5 litre flat-4 engine equipped with Bosch L-Jetronic fuel injection producing 140 PS (100 kW; 140 hp) at 5400 rpm and 209 newton metres (154 ft·lbf) at 3000 rpm of torque. It was a front engined, front-wheel drive vehicle based on the Lancia Gamma platform.
Many of the seminal packaging lessons of the Megagamma were incorporated by Giorgetto Giugiaro in the 1983 Fiat Uno supermini. There were also significant styling similarities. Its tall car / high seating packaging is imitated by every small car today. The Uno reversed the trend for lower and lower built cars. It showed that not just low sleek cars could be aerodynamic with a Cd of just 0.34, but small, roomy, boxy well packaged cars could be too. In 1984 it was voted European Car of the Year.
Community content is available under
CC-BY-SA
unless otherwise noted.