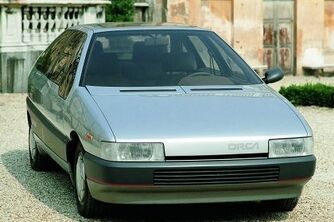 The
Lancia Orca
is a prototype car from the Italian brand Lancia. It was introduced in the year 1982 at the Turin Motor Show. The car was developed by
Italdesign
, with its mechanics based
Lancia Delta
Integrale.
Features
The Orca was a 5-door hatchback with compact dimensions. Giugiaro designed the car with smooth edges and a slippery glass surface, giving the car a drag coefficient of 0.245.
The interior represents the biggest advance in technology in the car. The steering wheel was crammed full of control buttons for things like the radio, cruise control and many other functions.
The Ocra had the Delta's 4-cylinder turbo engine which was capable of generating 140 hp at 5600 rpm. The engine was positioned transversely at the front and was mated to a 4-speed transmission.