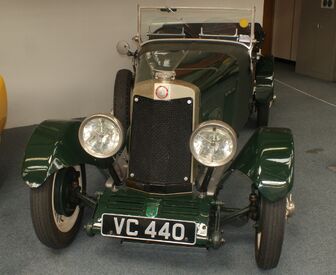 The
S Type
was a car made by Lea-Francis between 1927 and 1932.
The S Type was quickly branded the 'Hyper' by Lea-Francis and is how it has been commonly referred to since. After experiements with a variety of superchargers, Lea-Francis adopted the Cozette for use in its competition cars, from which the S Type evolved, to become the first supercharged British production car.
The S Type used the same basic chassis design as the O and P types, but with the Meadows 4ED engine set further back to give space for the Cozette supercharger behind the distinctive sloping radiator. It also had servo-assisted brakes.
Initially it was available with four-seater tourer and even saloon bodies, and later came a Weymann coupé.
The car had many successes in racing, both in the hands of private owners and the factory, most notably winning the 1928 Ards TT, after which a skimpy two-seater like the competition cars was marketed, called the "TT Replica".
In standard form, with a No.8 Cozette supercharger and relatively standard Meadows 4ED engine, the S Type was capable of 85mph. The competition cars, with a No.9 Cozette, roller bearing crank-shaft and re-worked Meadows 4ED were capable of well over 100mph and one is known to have lapped Brooklands at 112.8 mph.
About 180 S Types were produced of which as many as 41 may have survived.