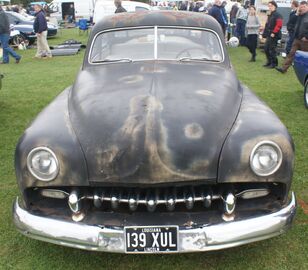 The
Lincoln Cosmopolitan
is a full-size luxury car sold by Lincoln from the 1949 through the 1954 model year.
1949-1951
1949 was significant to the Ford and Lincoln lines due to the introduction of the 1949 Ford and the 1949 Mercury Eight, which became very popular with customizers who created "Lead sleds" from it. All were brand new bodies.
The Cosmopolitan featured a four-speed Hydramatic automatic transmission supplied by General Motors or a base three-speed manual and a 5.5  liter (337 cubic inch) 152 hp V8 as well as an "aerodynamic" hood ornament. Like the Continental of the 1960s, the Cosmopolitan featured suicide doors, which opened from the B-pillar. In 1949, new coil springs were added to the front. The headlights and tail lights on the Cosmopolitan reflected a new styling trend appearing on customized vehicles called "frenching" where various items were recessed into the bodywork.
In 1951, power window and seats were standard.
1952-1954
When it was restyled in 1952, it was paired with a new full-sized model named the Lincoln Capri. The engine was replaced with the new OHV 317 cu in (5.2 L) Lincoln Y-Block V8. Front leg room was 42 inches (1,067 mm). Bodies were brand new again.
Powered by the 317 cu in (5.2 L) Lincoln Y-block V8, Lincolns won the top four spots in the Stock Car category of the Pan American Road Race in both 1952 and 1953. In 1954 (its final year) Lincolns took first and second place.
Gallery