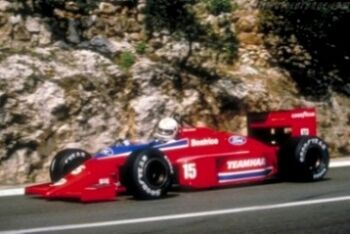 The
Lola THL2
was a Formula One racing car designed by Neil Oatley for FORCE and was used by Team Haas (USA) Ltd. during the 1986 Formula One season.
The car debuted at the 1986 San Marino Grand Prix and was driven by 1980 World Drivers' Champion Alan Jones and his new team mate Patrick Tambay.
The car was an evolution of the Lola THL1 which used the Hart 415T Straight 4 turbo. When the THL2 appeared at Imola it was powered by the new Ford TEC V6 turbo which was rated at about 900 bhp (671 kW; 912 PS).
This unfortunately lagged behind other engines in F1 in 1986 such as the reported 1,200 bhp (895 kW; 1,217 PS) bhp that the Lotus Renault had and the 1,400 bhp (1,044 kW; 1,419 PS) of the BMW engine.
This led to a frustrating season for both Jones and Tambay as the THL2 was generally regarded to be the best handling car of the season. Jones was reported to have continually asked engine builder Cosworth to build special qualifying engines with more power like Renault, BMW and Honda were doing in order to be able to qualify the car further up the grid, but the requests were turned down.
Jones only scored 4 points during the season and retired from F1 for good at season's end. Tambay only scored two points with 5th place in Austria. Tambay also departed F1 at season's end, as did the Lola Haas team following the withdrawal of their major sponsor Beatrice Foods.
Interestingly, like its predecessor, the car was called a Lola but its only connection to the famous Lola Cars was because of car owner Carl Haas's previous close association with Lola founder Eric Broadley, who was also named as chief engineer for the team in 1985.