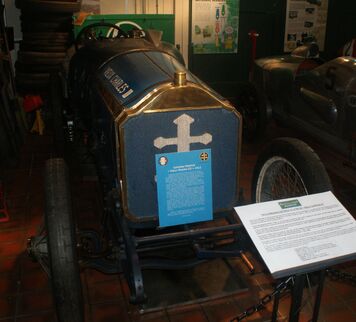 The Vieux Charles III was a racecar made by Lorraine Dietrich for the 1912 Grand Prix. The cars were fitted with a 15 litre engine and only four were built.
After the First World War, the Vieux Charles III was taken to Brooklands where it was raced by Malcolm Campbell as one of his Bluebird racecars.
The car then became a popular performer at Bank Holiday meetings. The Vieux Charles' last success was at the 1925 BARC Summer Meeting. The driver D.Hawkes won a Lightning Short Handicap at 99.15mph.
The car pictured was acquired by Brooklands on the 28th March 1993 through the National Rescue Fund.