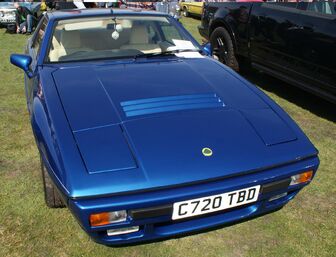 The Type 89
Lotus Excel
, built from 1982 to 1992, is a front-engined, rear-wheel drive sports car designed and built by Lotus. It was based on the design of the earlier Lotus Eclat, which itself was based on the earlier Lotus Elite II.
Toyota engaged Lotus to assist with engineering work on the Supra. During this period, Toyota became a major shareholder in Lotus, later giving up their holding when General Motors bought Lotus.
Part of the deal between Lotus and Toyota included the use of many Toyota mechanical components in Lotus' cars. The original Excel (aka the Éclat Excel) used the W58 manual transmission, driveshafts, rear differential, 14x7 in alloy wheels, and door handles from the Supra Mk II, which was made from 1982 to 1986. The engine was the familiar all-aluminium, DOHC 2.2 L Lotus 912 Slant Four (which was used in the Lotus Esprit S3). During its lifetime, the Excel received two major upgrades with the introduction of the Excel SE (a 180 bhp/134 kW engine vs the standard 160 bhp/119 kW engined car) in 1985 and the Excel SA with automatic gearbox in 1986. Further facelifts in 1989 saw Citroën-derived mirrors, as featured on the Esprit, and 15 inch OZ alloy wheels to a similar pattern as the Esprit's.
According to Lotus records, only 1 Excel was manufactured to USA specification. The lack of release in the USA was due to the high emission regulations (which would hinder the car's performance), and poor sales of the car in Europe. 415 are still registered in the United Kingdom as of 2011, but 240 of them are SORN.
Gallery
Community content is available under
CC-BY-SA
unless otherwise noted.