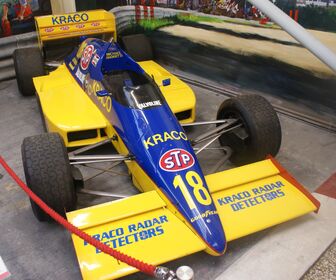 The March 86C (86-C) was an Indycar that raced during the 1986 Indianapolis 500 and the 1987 one as well. The car achieved great success winning both races in consecutive years.
History
The 86C was developed to compete with the new CART regulations at the start of 1986, until 1989. The diffusers were reduced in size and length; It was mandatory for the tub floor to be honeycomb; sidepods were integrated into driver protection, and; rear view visibility improved. Along with previous March's, the car was powered by a Cosworth V8. These rules helped the 86C achieve Its great success.
Fortuanetly, the March 86C's potential came out to play in the 1986 Indy 500. Nine out of the top ten positions were held by the 86C. Bobby Rahal, (father of Graham Rahal ) won the event for Jim Trueman and the Truesports Mortor Team. Later that year, Rahal would take the 1986 CART Championship.
The March 86C won the Indy 500 again in 1987, with Al Unser, Sr. Truth to behold, Unser's victory is considered one of the biggest upsets in Indy 500 history because he raced a show car and had little money with no sponsorship before the 500.
Notable drivers
Bobby Rahal
Al Unser Sr.
Michael Andretti
Rick Mears
Emerson Fittipaldi
Community content is available under
CC-BY-SA
unless otherwise noted.