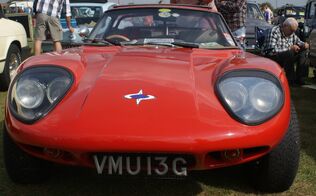 In 1964 the Marcos 1600 (also called the Marcos 1800 GT) was presented. Originally this used the 4-cylinder Volvo 1800 cc unit with overdrive gearbox and De Dion rear axle but in 1966 this changed to a Ford engine in 1500 cc, 1600 cc or 1650 cc capacity and a coil sprung live rear axle. In 1969 this changed again to the Ford V4 engine as used in the Corsair and Capri. In 1969 the GT changed from plywood chassis to a more conventional steel one. This shortened the production time and also made it possible to use more powerful 6-cylinder engines with a choice of 140 bhp (104 kW; 142 PS), 3-litre Ford Essex V6 engine (UK), 140 bhp (104 kW; 142 PS), 3-litre Volvo straight 6 or more rarely the Triumph 2.5-litre straight 6.
The cars were sold into the North American market and for them to pass the exhaust emissions regulations the Volvo engine was used there, but there were delays and problems and this, along with the development costs of the Mantis, resulted in the company closing its doors – for the first time. The car had a wheelbase of 1,956 millimetres (77.0 in), a height of only 1,092 millimetres (43.0 in) and weighed 914 kilograms (2,020 lb). The Ford V6 version achieved over 120 mph (190 km/h) on test and the Volvo-engined model was not far behind it, but the heavy cast-iron engines made the cars a little nose-heavy, especially compared to the 4-cylinder variants.
Gallery
Community content is available under
CC-BY-SA
unless otherwise noted.