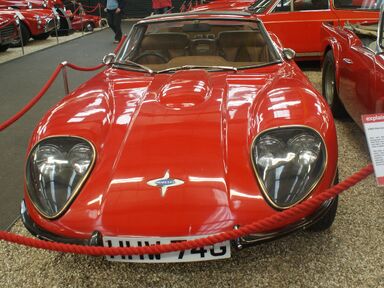 The Marcos 3 Litre has a V6 Ford engine which gives it a similar performance to a Jaguar E-Type. The car was introduced in 1969.
Wooden Chassis
January 1969 saw the introduction of the Marcos 3 Litre with a wooden chassis.
The Marcos 1600 chassis was adapted to take the relatively compact all new Ford Zodiac 3 Litre V6 engine and gearbox. This engine was able to produce 136 bhp giving the car a top speed of 125 mph and acceleration from 0-60 mph in 7.5 seconds.
The introduction of the 3 Litre engine also saw major improvements to several areas of the car including electric windows, totally new doors and door frames, a power bulge to house the twin choke down draft carburettor, padded dashboard, rocker switches, and single rectangular headlamps.
The Marcos 3 Litre proved a very capable rival to the 4.2 Litre Jaguar E-Type with over 115 being built.
The price for a new car was £2350.00 in April 1969.
Steel Chassis
In July 1969 the decision was made to introduce the metal chassis due to rising costs of producing the wooden one. Constructed from 1 1/2 inch square section mild steel tube, the metal chassis proved to be cheaper and quicker to produce than the wooden chassis. A fibreglass undertray was designed to fit onto the chassis and the body bonded to the undertray using locating jigs whilst on the chassis
Because of this is it very light and because of the position of the engine, with its low centre of gravity, the car handles extremely well on the road.
Visually the exterior changes included the addition of a sill panel and alterations to the rear bumpers. Internally the footwells became slighter wider, the tunnel top was fixed as opposed to removable and the rake of the seat was increased.
Shortly after the introduction of the metal chassis, Marcos Cars moved to the purpose built factory in Westbury, Wiltshire where 196 cars were produced between 1969 and 1971.
Gallery
Community content is available under
CC-BY-SA
unless otherwise noted.