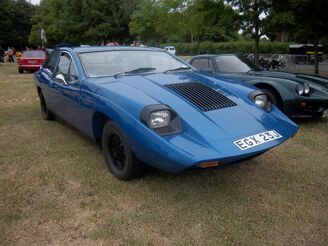 The Marcos Mantis is a sports car produced by the British car company Marcos. It was formally introduced in 1968 though production appears to have got off to a slow start. In February 1971 Marcos announced that the car could now also be purchased in component form, at a domestic market price of £2,425 compared to the recommended retail price of the built version of £3,185. (At this time the V8 Rover 3500 came with a UK sticker price of £2,150 including sales taxes.) 32 examples were produced, with production ending in 1971.
Marcos Mantis XP
This was a pure racing car, the Marcos Mantis XP, a sportscar-prototype with very aggressive appearance, powered by a mid-mounted BRM-Repco V8. Like earlier Marcos cars it used a plywood monocoque chassis, albeit a very different one from the GT. Only one car was made. The only race was the 1000 km race in Spa in 1968, were it did not finish due to electrical problems after the race was hit by severe rain. Originally Marcos intended to race the car in the 1968 Le Mans, but that was postponed from June to September, and by then the car was in America, albeit fitted with a Buick V8 engine (from which the Rover V8 engine was derived) in place of the Repco Brabham unit.
Mantis M70
The next car to be called Mantis was launched in 1970. The 4 seater Mantis M70 was powered by a 2.5-litre Triumph TR6 six-cylinder injected engine with 4 speed gearbox. The promotional brochure states the "styling gives high all round visibility and a low centre of gravity together with an extremely wide track ensures superb roadholding. The luxurious interior seats four in comfort, and the boot, with a capacity of 10 cubic feet, makes the Mantis ideal for the man who is going places and wants to travel in style."
Gallery
Community content is available under
CC-BY-SA
unless otherwise noted.