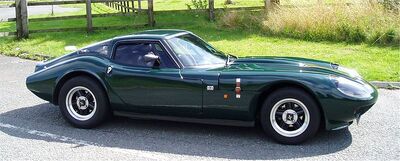 In 1983 the
Marcos Mantula
appeared, looking very similar to the old GT, but now powered by a 3.5-litre Rover V8 and 5-speed gearbox.
The alloy Rover engine weighed much less than the old six-cylinder cast-iron units and the overall weight of about 900 kg put the car back into serious contention against other Rover powered sports cars such as TVR and Morgan. The engine evolved into the Rover Vitesse Efi engine, and later Mantulas were fitted with a Rover 3.9 Efi. In 1986 the Mantula became available in convertible form as the Marcos Spyder, and marked a change that would see coupes become rare in later models. The other change during the production run, was the introduction of independent rear suspension in 1989, which used a Sierra 7" differential and rear disk brakes. Apart from the benefits to suspension, this allowed a full width boot and changes to location of battery and heater/air conditioning. Production was 170 coupes and 119 Spyders.
Community content is available under
CC-BY-SA
unless otherwise noted.