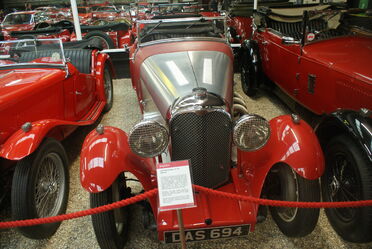 The Marendaz 13/70 Special was made between 1932 and 1934. It was available as a 2-seater or 4-seater and as a coupe.
About 80 cars were built at the Maidenhead factory. The car came with a 1869 cc side-valve 6-cylinder continental engine and hydraulic brakes as standard. The car has a 116 in (2,946 mm) wheelbase and cost £375 when new.
Sales were supported by a considerable racing programme, entries by Captain Marendaz himself up to 1931 and his secretary Miss Dorothy Summers up to 1936. They were also raced by Mr and Mrs AE Moss, the parents of Sir Stirling Moss.
An example can be seen at Haynes International Motor Museum in Sparkford, Somerset. The car is situated in the 'Red Room'.