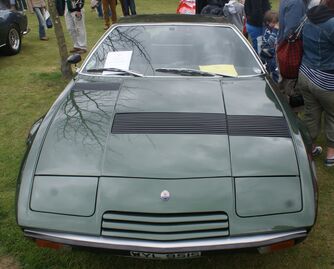 The Maserati Khamsin is a bertone prototype introduced as a sports car. In 1973, it was on put display at the Paris Motor Show, where it was badged as a Maserati.
Engine and Bodywork
The car had a front mounted 4.9 L V-8 engine, delivering up to 320 hp. It was pushed back as far as possible, to fit a spare tire for more room in the trunk.
The body of the Khamsin resembled a lower, flatter Ghibli although designed by Bertone.
Production
Production of the Khamsin started in 1974. It ended in 1982. A total 430 Khamsins were produced, with 155 of them being shipped to the U.S.
Gallery
Community content is available under
CC-BY-SA
unless otherwise noted.