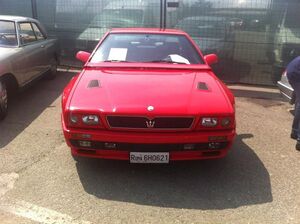 The Maserati Shamal (Tipo 339) is a compact, two-door coupé introduced by Italian automaker Maserati on December 17, 1989. It is named after Shamal, a hot summer wind that blows in large areas of Mesopotamia. The Shamal was designed by Marcello Gandini, who is famous for designing the Lamborghini Countach and the Lamborghini Miura. The Shamal shows its Biturbo heritage in the doors, interior, and basic bodyshell, which were carried over from the Biturbo. Gandini's styling signature is visible in the profile of the rear wheel wheel arch which resembles that of the Lamborghini Countach.
The center pillar acts as a roll bar and is always finished in black, a distinguishing characteristic of the Shamal. The name "Shamal" appears on either side of the central pillar in chrome lettering. The car has alloy wheels, a small rear spoiler and a blacked-out grille with chrome accents. The two-seat interior of the Shamal features extended leather seat cushions, temperature control and the famous Maserati oval clock, which is situated in the centre of the dashboard. The gear lever is finished in elm. While built for comfort as well as performance, the Shamal was not as luxuriously appointed as the similar Maserati Ghibli II.
The front-engined Shamal is powered by a 3.2-litre twin-turbocharged V8, DOHC and 32 valves engine (AM 479) producing some 326 bhp (243 kW). It has a six-speed Getrag manual transmission and an electronic active suspension control system. This system updates the adjustment on each wheel, based on road conditions and the level of comfort desired.
The Shamal has a top speed of 168 mph (270 km/h) and a 0 to 60 mph (97 km/h) acceleration time of 5.3 seconds.
The final year of production for the Maserati Shamal was 1996. Factory figures indicate that 369 Shamals were produced between 1989 and 1996.
Community content is available under
CC-BY-SA
unless otherwise noted.