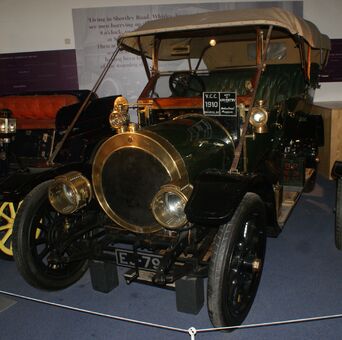 The
Maudslay 32hp
was a large expensive car produced in 1910.
The car photographed is a 32hp Tourer which carries the companies signature round radiator style.
The cars were powered by the distinctive the 'Maudslay Patent Overhead Hinged Camshaft and Valve Gear engine', which meant that the top part of the engine hinges back to give easy access to the rest of the engine so parts can be repaired or replaced easily, without taking the whole engine out or disassembling the car.
The rolling chassis was priced at £875 and with body, lights and other parts to make it complete and usable car would cost to around £2000, at a time when a skilled engineer would earn around £125 per year.