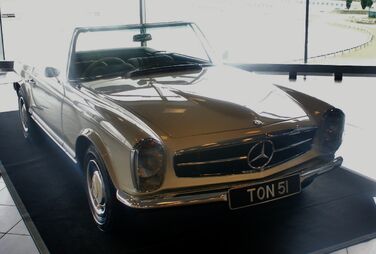 The Mercedes-Benz 230SL made its remarkable debut at the prestigious Geneva Motor Show in March 1963, where Nallinger introduced it as follows: "It was our aim to create a very safe and fast sports car with high performance, which despite its sports characteristics, provides a very high degree of traveling comfort."
Production of the 2.3 liter 230 SL commenced in June 1963 and ended on 5 January 1967. It was based on the W111 sedan platform, with a reduced wheelbase by 11.8", recirculating ball steering (with optional power steering), double wishbone front suspension and an independent single-joint swing rear-axle with compensating spring. The dual-circuit brake system had front disc brakes and power-assisted rear drum brakes.The 230SL was offered with a 4-speed manual transmission or an optional 4-speed automatic transmission, which was popular for US models. The comparatively short and wide chassis, combined with an excellent suspension, powerful brakes and radial tires gave the 230 SL superb handling for its time. Of the 19,831 230 SLs produced, less than a quarter were sold in the US.
The 2308 cc M127.II inline-six engine with 150 PS (110 kW; 150 hp) and 196 N·m (145 lb·ft) torque was based on the venerable M180 inline-six with four main bearings and mechanical Bosch multi-port fuel injection. Mercedes-Benz made a number of modifications to boost its power, most importantly using a fuel injection pump with six plungers instead of two, which allowed placing the nozzles in the cylinder head and 'shooting' the fuel through the intake manifold and open valves directly into the combustion chambers. An optional oil cooler was also available.
Mercedes-Benz Chief Engineer Rudolf Uhlenhaut, who was as competent behind the wheel as any racing driver, demonstrated the capabilities of the 230 SL on a tight short race track near Montreux in 1963, where he put up a best lap time of 47.5 seconds vs. 47.3 seconds by Mike Parkes on his 3 liter V12 Ferrari 250 GT.
The 230 SL gradually gained popularity in the US market, which eventually led to an increased number of cars being built with automatic transmissions.
A brief chronology of the most visible changes made to the 230 SL:
September 1964: Spare tire well removed; tire mounted horizontally.
November 1964: Optional color/thermal glass.
August 1965: Hazard lights for US models.
March 1966: Three-point seat belts available.
May 1966: Optional (rare) ZF 5-speed manual transmission, now highly desirable.
Gallery
Community content is available under
CC-BY-SA
unless otherwise noted.