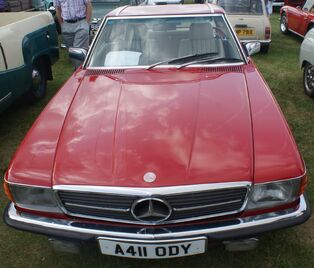 The 2.8 liter 280 SL was introduced in December 1967 and continued in production through 23 February 1971, when the W 113 was replaced by its successor, the entirely new and substantially heavier 350 SL (R107). Over the years, the W 113 evolved from a sports car into a comfortable grand tourer, and US models were by then usually equipped with an automatic transmission and air condition. Manual transmission cars came with either a 4-speed, or the desirable ZF 5-speed. In Europe, manual transmission cars without air condition were still predominant. Of the 23,885 280 SLs produced, more than half were sold in the US.
The main change was the use of the 2778 cc M130 engine with 170 PS (130 kW; 170 hp) maximum power and 180 lb·ft (244 N·m) maximum torque, which finally gave the W 113 adequate power. The performance improvement was achieved by increasing bore by 4.5 mm (0.2 in), which stretched the limits of the M180 block, and required pairwise cylinder casts without cooling water passages. This mandated an oil-cooler, which was fitted vertically next to the radiator. The M130 marked the final evolution of the venerable SOHC M180 inline-six, before it was superseded by the entirely new DOHC M110 inline-six introduced with 1974 European R107 models.
A brief chronology of the most visible changes made to the 280SL:
January 1968: One piece wheel-covers (like the W 108 sedans)
October 1968: US models with sealed beam headlights without fog lights.
February 1969: New tail lights with amber turn signals.
July 1969: US models with transistorized ignition and improved emission control.
August 1969: Heated rear window for hardtop, hazard lights for all models, one unified key for all locks, US models with illuminated side reflectors.
November 1970: Plastic cooling water header tank (instead of metal). New door locks, cylinder can now be depressed while door is locked.
Gallery
Community content is available under
CC-BY-SA
unless otherwise noted.