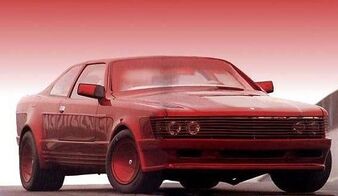 The
Mercedes-Benz Biturbo
was a concept car built in 1984.
It was based on the six Sbarro Shahin Mercedes-Benz prototypes of 1983, the Biturbo was unveiled at the 1994 Geneva Auto Show as a revitalised version of the six concepts.
Based on Mercedes-Benz 500 SEC mechanics, and powered by a 350-horsepower 5.0-litre V8 engine, the Biturbo could reach a top speed of 171 miles per hour. The gull-wing doors, horizontal-lined front grille, dual sets of headlights, and white leather interior, were carry-overs from the previous designs.
The windshield was tinted pink around the edges. The interior was also equipped with a telephone, an air conditioning system, and a high-quality audio system.