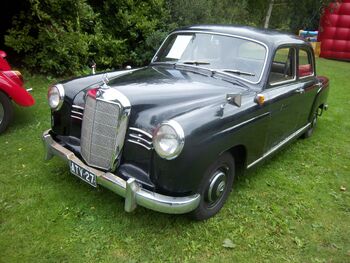 The Mercedes-Benz
W120
and
W121
"Ponton" cars were produced from 1953 through 1962. They were sold under the "180" and "190" model names.
The four-cylinder 180 was the first 'small' Mercedes, the C-class of that era. Mercedes-Benz would return to this market segment in 1982 with the 190E. The W121 190 was the E-class of the time.
The 6-cylinder Ponton models were the longer W128/W180 220s-220S-220SE.
The 180-190 and 220-220S 'Ponton' models looked very similar in appearance from the windshield back. From behind, one could not easily identify even the top of the line 220SE (E for Einspritzung, or fuel injection) from a 180, but the longer hood and chrome touches identified it as an upscale, 6-cylinder model.
The 300 used a much larger frame and body, however, and was an entirely different automobile.
The 180-190 four-cylinders were widely used as German taxicabs. Only these shorter Pontons featured low-wattage parking clearance lights at front fender top rear. A simple left-right toggle above and to the left of the driver's knee selected which side would illuminate, so as not to needlessly run down the battery in winter, no small concern when restarting diesels. Heater air intakes were on both sides of the radiator grille only on the 120/121.
The form and body of the car changed little during its production run. However, in 1957, a year after the introduction of the 190 sedan, the Mercedes star atop the faux external radiator cap was made detachable: reports at the time indicated that this was either to pander to the requirements of certain export markets, notably Switzerland or to reduce the risk of pedestrian injury in the event of an accident.By 1959, the star was spring-retained on a ball base.
A roadster variant, the R121, better known as the 190SL, was produced from 1955 to 1963.
In 1960, as a styling transition, a slightly wider grille and slimmer taillights were fitted. The Ponton models were replaced by the W110 "Fintail" models beginning in 1961.