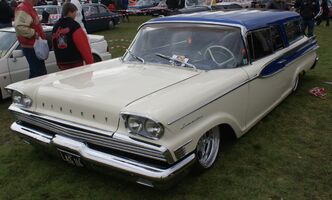 The
Mercury Commuter
was Mercury's lowest-priced full-size station wagon from 1957 to 1968.
When introduced for the 1957 model year it was priced below Mercury's other two new full size wagons, the Voyager and the Colony Park. In 1957 the same 368 cu in (6.0 L) Lincoln Y-Block V8 that was standard equipment on the Mercury Turnpike Cruiser was optional equipment on the Commuter.
It was initially available as a two-door wagon and as a four-door wagon with the former discontinued after the 1959 model year. The Commuter was temporarily absent in 1963, in concession to the new Meteor station wagons, but was reinstated for 1964, when the Meteor was dropped. The Commuter was phased out for good, like the full-size Mercury Montclair and Park Lane, after the 1968 model year. On a collectible scale model note, a 1968 Commuter wagon was rendered in the form of a Matchbox scale die cast car, however, along with a companion Matchbox 1968 Park Lane sedan.