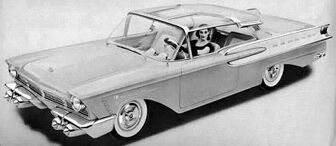 The Mercury XM-8100 Turnpike Cruiser was a concept car built in 1955.
This concept car embraced the elegance of the era while adding some very unique styling and features, being presented with a feminine touch.
It is one of Mercury's most memorable dream cars of all time. Bold styling which featured 12-inch wide V-shaped taillights and matching pearlescent concave-sculpted rear fenders. The XM Turnpike Cruiser's large, flat roof seemed to float above the two-tone interior. Twin transparent roof panels flipped-up when doors were opened.
Several design elements re-appeared in the 1957 Mercury.