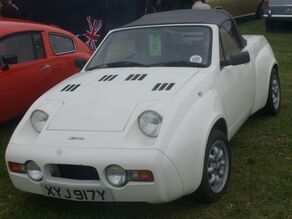 The
Midas Gold Convertible
was a kit car that was produced between 1988 and 1989.
It was introduced in 1988 as the convertible version of the Midas Gold. This was essentially just a standard Gold with the roof chopped off. The 2+2 option was gone, instead a 2-seater with a big boot replaced it.
As per the Gold coupe the Convertible utilised Metro donor components. Hard and soft top options were offered to keep the weather out. 
Production ceased under the banner of Midas Cars in 1989 following a factory fire and the company going into liquidation but the Convertible is still available today via Alternative Cars Ltd.