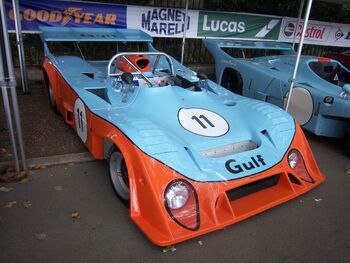 The GR7 (also known as the Gulf-Mirage GR7) is a prototype racecar built by Mirage in 1974.
The GR7 started life as an M6. Four of the five M6s were rebuilt as the Gulf Mirage GR7s. Much of the work concentrated on getting the weight down to the Le Mans winning Matras. This was mostly achieved by using titanium for many parts. The aero package was also tweaked by lengthening the nose and moving the wing further back.
The Matras were as quick as ever and Alfa Romeo had returned with a brand new flat-12 engined version of their Tipo 33 racer, which was also instantly competitive. Bell set the fastest lap in the season opening Monza 1000 km race, grabbed the pole at Spa and finished third in the final three rounds of the World Championship. At Le Mans, the Mirage also survived and claimed fourth. Unfortunately the pace and reliability could not be converted in victories. Another blow was the retirement of Grady Davis at Gulf Oil. He had been the company's strongest supporter of the motorsports program.
The GR7 (chassis GR7/701) completed in March of 1972, this Mirage started life as a M6 (chassis M6/300/601). Ahead of the 1974 season it was converted into GR7/701. In both guises, it was raced extensively and probably racked up more mileage than any other Mirage. In 1972 Derek Bell and Gijs van Lennep scored the models first finish by crossing the line in fourth during the Spa 1000 km. At the end of 1973 Bell and James Hunt came close to winning the Kyalami 9 Hours but eventually clinched second. As GR7 it finished fourth in the Nürburgring 1000 km and qualified third at Le Mans. After serving Gulf Racing well for three seasons, it was one of at least two Mirages sold to Georg Loos' Gelo team. The German squad used the cars throughout 1975 with some notable results.
In recent years the car was acquired by an avid historic racer from Belgium. The Mirage has been restored to its 1974 GR7 specification.