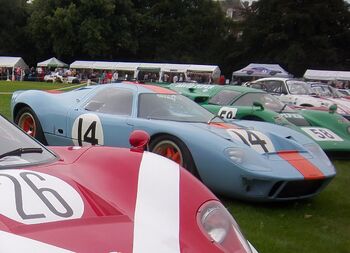 The M1 was a sports prototype built for the 1967 season which was built and raced by JWAE.
The M1 was based on the Ford GT40. The M1 used the standard Ford GT40 V8 engine in various capacities up to 5.7 litres. The highlight of the M1's short racing career was without doubt the victory by Jacky Ickx and Dick Thompson in chassis M.1003 in the 1967
History
In 1966 the Vice-President of the Gulf Oil Corporaion, Grady Davis purchased a Ford GT40 (Chassis no P1049). Davis became an instant fan of the car and realised that motor racing would be a great platform to promote the Gulf brand. On hearing of plans to build a new lightweight racing version of the GT, he decided to become involved.
As of 1st January 1967, JWA (John Wyer Automotive Engineering) developed a new racing version. JWA then went in to partnership with Gulf to develop and race the new lightweight GT whilst Ford focused on winning Le Mans with the Mark IV.
Race History
The lightweight JWA car was not the first Gulf-liveried GT40 to race. Whilst the new chassis were being constructed at Slough, Davis had his own car shipped to England and race-prepared by JWA. P1049 was then shipped back to the US and entered into the Daytona race in February in Gulf Oil colours. Jacky Ickx and Dick Thompson drove it to 6th place.
The debut of the new cars, given the designation M.10001 and M.10002, was at the Le Mans trials of 8th and 9th April 1967. The racing chassis was a lightened version of the original GT40 but the bodywork had been changed to incorporate a much narrower, more aerodynamic cockpit and the GT40-style air ducts in front of the rear wheels were removed giving the M1 a much more rounded look. The 289 cubic inch engine had also been upgraded to 351 cubic inches. Another important change was a new name - the car was now known singularly as the 'Mirage'. The cars have come to be known as Mirage M1s although they were in all respects a modified GT40.
The first win for the M1 came at the Spa 1000 km in May for the Ickx/Thompson pairing. However, in June both cars failed to finish at Le Mans. The season did improve with victories at two non-championship races in Sweden plus a victory at the Paris 1000 km at Montlhery in October and the 9 Hours of Kylami in November.