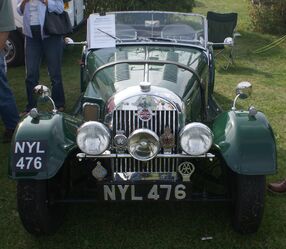 The
Morgan Plus 4
(or
+4
) is a larger and more powerful version of the Morgan Motor Company's 4/4 model and was made between 1950 and 1969. The model was revived in 1985 and filled the gap between the 4/4 and the Plus 8 until 2000; it was again revived in 2005.
After World War II Morgan had re-introduced their 4/4 model fitted with a 1267 cc Standard engine. This continued in production until 1950 when it was replaced by the larger Plus 4 announced at the 1950 Earl's Court Motor Show. In 1955 the 4/4 model re-appeared in phase II form.
The Plus 4 was fitted with a 2088 cc engine based on that used in the Standard Vanguard fitted in a strengthened and longer chassis. Hydraulic brakes, at first all drum, were fitted for the first time on a Morgan.
In 1953 a higher performance version was announced with the 1991 cc I4 engine as used in the Triumph TR3. The radiator grille was now surrounded by a cowl that blended into the bonnet. Front disc brakes became an option in 1959 and were standardised in 1960. From 1962 the engine was the Triumph TR4 unit, which increased displacement to 2138 cc.
Body styles available were a 2 seat sports, 4 seat sports and more luxurious 2 or 4 seat drophead coupé (4 seat coupé 1954-1956 only).
One of the interesting quirks of the Plus 4 was that the engine cowling fitted so closely to the engine that there was no room for an air filter. Some owners stretched cheesecloth over the carburettor as a field-expedient.
Competition use
A racing version, the Plus 4 Super Sports was available from 1962 with tuned engine and lightweight body.
In 1962 Chris Lawrence and Richard Shepherd-Barron won the 2.0 litre I4 GT class of the famous 24 Hours of Le Mans in a Morgan Plus 4, chassis number 4840. The Le Mans class winning car was originally registered XRX 1 in 1961, then changed to TOK 258 from late 1961 through mid-1964 (at least different 4 Morgans have carried the TOK 258 registration number). The 1962 Le Mans class winning Morgan, chassis 4840, was sold by Chris Lawrence to A. Dence in 1964 and the registration was changed to JHX 142B.
Performance
A TR3 engined two seater car was tested by the British magazine The Motor in 1958. It was found to have had a top speed of 100.3 mph (161.4 km/h) and could accelerate from 0-60 mph (97 km/h) in 9.7 seconds. A fuel consumption of 27.1 miles per imperial gallon (10.4 L/100 km; 22.6 mpg-US) was recorded. The test car cost £1017 including taxes of £340.
Gallery
Community content is available under
CC-BY-SA
unless otherwise noted.