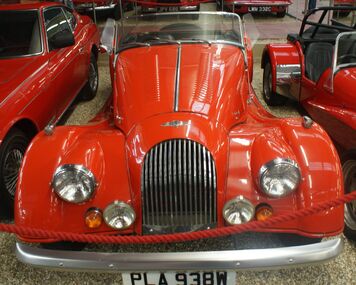 The Morgan Plus 8 is a sports car built by British car makers Morgan between 1968 and 2004. Its instant and enduring popularity has been credited with saving the company and keeping the company famous during the 36 years of its manufacture. Among Morgan enthusiasts, it is deeply associated with Peter Morgan, the owner-chairman behind its design.
Design
The Plus 8 was based on the chassis of the Plus 4, to which it added the Rover alloy block 215 cu in (3.5 l) V8, purchased from GM-Buick in 1967. Chassis and wings were developed in stages to accommodate larger tyres to handle the power. The original 1968 Plus 8 was 57 inches (1,400 mm) wide and the last was 64 inches (1,600 mm) (with an optional "widebody" at 67 inches (1,700 mm)) For several years in the 1960s the Plus Eight was the fastest-accelerating UK production car.
To mark the 35th year of production of its Plus 8, MMC released a commemorative 'Anniversary Edition'.
Engines
All Plus 8s engines were based on the Buick 215 which had been bought by Rover. Morgan was the first of a succession of sports car makers - including the likes of TVR and Marcos - to use the engine, which Rover had only just made available in the P5B saloon.
The early Plus 8s used the 215 block (renamed the 3.5 L by Rover) with a compression of 10.5:1 fueled by two SU HS6 carburettors. In 1973, the compression was dropped to 9.25:1 and power dropped with it. However in 1976, the compression was increased to 9.35:1 when an improved version of the block developed for the Rover SD1 was adopted and after 1981 this was fueled by two Stromberg carburettors, and the power increased.
At the end of 1983, the company offered an EFI version using a Bosch L-Jetronic based system. With the added power (204 bhp (152 kW; 207 PS)) and low weight, the Plus 8 was, according to the magazine road tests of the day, able to best a Porsche up to 90 mph (140 km/h). In 1990, a 3.9 L version of the block was added using the Lucas 14CUX fuel injection system.
In 1996, a 4.6 L version found its way into the car as an option, still using the 14CUX system. From 2000, all Morgan Plus 8s were fueled by the GEMS system used on the Land Rover Discovery II.
Gallery
Community content is available under
CC-BY-SA
unless otherwise noted.