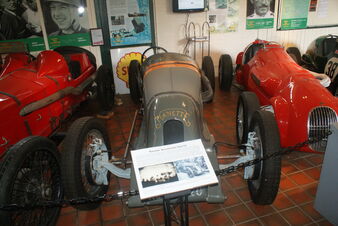 The
Nanette Brooklands Special
is a famous one-off special built around a record breaking Thomas engine with chassis and bodywork to the builder's designs.
The car was built in 1925 by a Mr Felix Scriven, a Yorkshireman with a penchant for Fair Isle sweaters. This historically important, 90mph race winning Brooklands car hadn't been seen in its original form since the 1920s.
It was originally fitted with an unreliable Sage motor, which caused this car to be originally being called, the 'Mother Goose'. This was until a four-cylinder Hooker motor was found (it originated from the Marlborough Thomas special) and could be configured as either a 1.5 litre or 1.75 litre motor according to which of two crankshafts was used.
It's body panels and other components from that period have been recreated where required and the whole car has undergone a full restoration to its original condition.
It can now be viewed at the Brooklands Museum, Surrey.