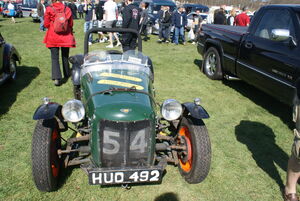 The Nota Arnold was the first car made by the British (now Australian) automobile manufacturer Nota. The vehicle was built in 1952, and like many post-war automobiles of the time, it was based on the Austin 7 of the 1920s and 1930s.
It has a lightweight box and tube section spaceframe chassis, independent front suspension, rack and pinion steering, transverse leaf front, ¼ elliptic rear springs and an early MG rear axle.
The engine is an 1172cc Ford sidevalve with twin 1¼ SUs and Aquaplane manifolds.
Only six were ever built and just one is known to survive.
Gallery