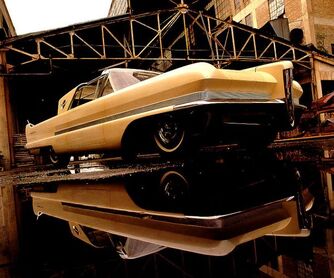 The
Packard Pedictor
was a concept show car built to tour the American automotive shows in 1956 and display possible future Packard styling.
It was built on a lengthend 122-ich Clipper chasis and was powered by a 352 cubic inch V8. The car was thought up by William Schmidt approved by Packard president James Nance, it was then designed by Richard Teague. The original name for the concept was the Packard Projector. Packard spent £70,000 on the development of the car.
The vehicle had a very long, low and wide body and was noted for its minimal use of chrome and push-button controls which operated such things as the doors. The headlamps were hidden until activated and the car was fitted with a windshield that wraps around to the roof.
The engine was a 352 cubic inch OHV V8 with cast iron block and cylinder heads that was able to produce 260hp at 4,600rpm. A single Rochester Type 4GC fuel system with four-barrel carburettors was fitted. Dual exhausts exitted through the rear bumber and the car had a 12 volt electrical system.