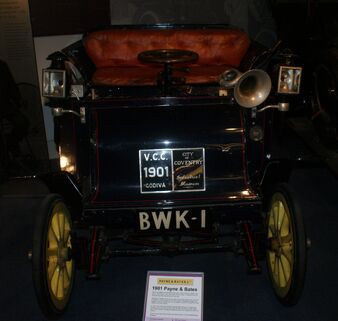 The
Payne and Bates Godiva
was veteran automobile produced between 1900 and 1901.
The Godiva was built at the Foleshill Road facility in Coventry. Payne and Bates also built the similar Stonebow here too.
The Godiva was a Dos-Dos, this is a reference to the styling, popular in a number of makes of the period meaning the two rows of seats were back to back.
The 7hp two-cylinder engine is located under the seats, connected by belts to a gearbox and then chains to the rear wheels.
The Godiva was a short lived model curtailed after one of the owners father, George bates was thrown from the car and dying as a result of his injuries. The family deciding to close the company and sell the factory.