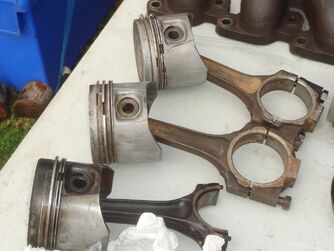 The piston of an internal combustion engine is acted upon by the pressure of the expanding combustion gases in the combustion chamber space at the top of the cylinder. This force then acts downwards through the connecting rod and onto the crankshaft. The connecting rod is attached to the piston by a swivelling gudgeon pin. This pin is mounted within the piston: unlike the steam engine, there is no piston rod or crosshead.
The pin itself is of hardened steel and is fixed in the piston, but free to move in the connecting rod. A few designs use a 'fully floating' design that is loose in both components. All pins must be prevented from moving sideways and the ends of the pin digging into the cylinder wall, usually by circlips.
Gas sealing is achieved by the use of piston rings. These are a number of narrow iron rings, fitted loosely into grooves in the piston, just below the crown. The rings are split at a point in the rim, allowing them to press against the cylinder with a light spring pressure. Two types of ring are used: the upper rings have solid faces and provide gas sealing; lower rings have narrow edges and a U-shaped profile, to act as oil scrapers. There are many proprietary and detail design features associated with piston rings.
Pistons are cast from aluminium alloys. For better strength and fatigue life, some racing pistons may be forged instead. Early pistons were of cast iron, but there were obvious benefits for engine balancing if a lighter alloy could be used. To produce pistons that could survive engine combustion temperatures, it was necessary to develop new alloys such as Y alloy and Hiduminium, specifically for use as pistons.