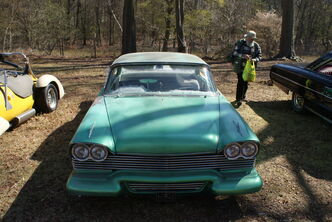 The
Plymouth Savoy
is an automobile model produced from the 1954 through 1964 model years by the Plymouth division of the Chrysler Corporation of Highland Park, Michigan.
Early History
Plymouth used the name Savoy on several automobiles. From 1951-1953, the Savoy name was used on a station wagon, upgrading the base model Suburban. Later was a line of full-sized Plymouths from 1954-1961.
Another incarnation was among Plymouth's downsized full-size cars from 1962-1964.
As with Plymouth's Plaza and Belvedere models, the Savoy was named after an upscale hotel.
1954
When introduced in 1954, later in the year with 1955 model paint schemes, the Savoy was Plymouth's mid-level car and priced between the base Plaza sedans and the top-line Belvedere models. In 1954, the Savoy was available as a two-door Club Coupe and four-door sedan and 2-door Club Sedan.
1955-1956
In 1956, the line added a hardtop coupe and the Custom Suburban station wagon.
In 1956, seat belts were added for safety. The Highway Hi-Fi record player was also optional.
1957-1959
For the 1957 and 1958 model years, the line added a four-door hardtop sedan.
In 1959, Plymouth dropped the Plaza and replaced it with the Savoy, making the Savoy the marque's entry level automobile and echoing the treatment of the once top-line Dodge Coronet. It lost both hardtop models, as well as the side trim and fancier interior trim it enjoyed in its original position in Plymouth's lineup. Sales were not diminished however, as their use as fleet models by taxicab companies became so popular, that by 1960 a whole new model, the Plymouth Taxi Special, was spun off from the Savoy. Front leg room was 45.5".
1960-1961
It was restyled in 1961, a year "most beholders would agreee...it was hit with the ugly stick". This was because of the odd chromed "lashes" on the front.
1962-1964
Plymouth discontinued the Savoy nameplate at the end of the 1964 model year, except in Canada, where it continued through 1965.
In 1965, the full-sized entry level Plymouth model in the U.S. was the Fury I; in Canada it was called the Savoy but the top-level models were named Fury II and Fury III.
Around the world
The Plymouth Savoy and the Dodge Kingsway were built in India by Premier Automobiles in Kurla, Bombay.
In Mexico was assembly by Automex between 1960–1961, the car was rebadged as the Dodge Savoy. The plant was localited in Lago Alberto, Mexico City.
Gallery