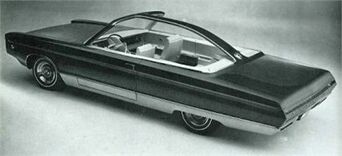 The
Plymouth VIP
is a concept car built in 1965.
The VIP was a four seater convertible with a unique roof bar from the top of the windshield to the rear deck. The car was first shown at the 1965 Chicago Auto Show. The over-all car has a futuristic design.
The metal part of the top is a longitudinal roll bar, which acts as a guide for the upper portion of the flexible top glass. This glass retracts into the trunk area making it virtually an open car.
The car's external paint is new and unique. Although the basic colour is magenta, the paint is iridescent and changes in various shades from pink to brown, according to the way the light strikes it.
The interior of the car is designed for maximum соmfort and on the instrument panel, a television set which can be viewed by all passengers, but is shrouded from the driver's eyes.