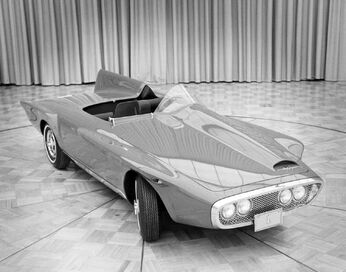 The
Plymouth XNR
was a concept car built in 1960.
Exner designed this compact two-seat roadster to explore an asymmetrical, driver-oriented design theme with sculptural fender blades. The car could seat two, but was best suited for a single occupant, the driver.
Thus the huge port-side headrest-cum-tailfin, which was intended to emphasize the driver while harkening back to late-1950s racing-car design, exemplified by the likes of Jaguar's D-Type and XKSS.
The driver sat behind a dramatically curved "personal" windshield; a smaller, fold-own windscreen was available for the protection of a passenger. Additionally, the passenger sat somewhat lower than the driver — a design touch intended to minimize the negative effects of the wind.
The frame of the XNR's grille was constructed of heavy-duty materials and doubled as the car's front bumper. The "X-motif" rear bumper was a visual reminder of the car's name and essentially asymmetric nature.
Quad headlamps nestled in a big mesh-filled bumper/grille roughly oval in shape. The passenger seat was normally covered by a metal tonneau, but a small fold-flat auxiliary windshield was provided should a co-pilot be aboard.
The interior was finished in black leather and aluminum. Of the car, Exner remarked he was "striving to avoid the static and bulky, which is ugly and not what an automobile should look like. The goal is to try for the graceful look, with a built-in feeling of motion. The wedge shape expresses the function of automobiles because it imparts a sense of direction."
Though XNR rode Valiant's tidy 106-inch wheelbase, prominent overhangs stretched overall length to 195 inches. Height was just 43 inches to the top of the fin.
Community content is available under
CC-BY-SA
unless otherwise noted.