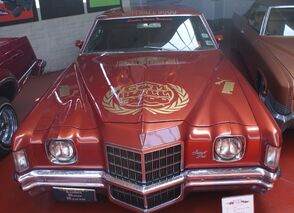 The Pontiac Grand Prix is an automobile that was produced by the Pontiac division of General Motors. First introduced as part of Pontiac's full-size model offering for the 1962 model year, the Grand Prix name was also applied to cars in the personal luxury car market segment and the mid-size offering, slotting below the large Bonneville in the company's lineup.
First generation (1962–1968)
Picking up where the Pontiac Ventura model left off, the Grand Prix first appeared in the Pontiac line for 1962. It was essentially a standard Pontiac Catalina coupe with minimal outside chrome trim and a sportier interior (bucket seats and a center console). The performance-minded John De Lorean, head of Advanced Engineering at Pontiac, contributed greatly to the development of both the Grand Prix and the GTO. Early models had full access to the Pontiac performance option list, including the factory-race Super Duty 421 powertrain installed in a handful of 1962 and 1963 cars.
The full-size Catalina-based Grand Prix did very well through the 1960s, and is often credited with the move towards minimal exterior trim seen in the 1960s. Yet its clear resemblance to the other full-size Pontiacs caused some to consider it a lesser model than the other personal luxury cars. At the same time, the Grand Prix had a much stronger performance image than its competitors.
1962
Aside from the minimal exterior chrome trim and distinctive grille and taillights, the first Grand Prix was much like other full-sized Pontiacs. It was essentially a Catalina hardtop coupe trimmed to standards similar to the larger top-line Bonneville.
Inside were bucket seats upholstered Morrokide vinyl and separated by a center console including a floor shifter, storage compartment and tachometer at the front end. The rear seat was of the bench type with a center armrest below a radio speaker grille (which could be made functional with the extra-cost Bi-Phonic rear speaker), along with nylon loop-blend carpeting covering the floor and lower door panels. Other standards including a padded instrument panel, deluxe steering wheel, courtesy lights and other items.
The standard engine was the Bonneville's 303 hp (226 kW) 389 cu in (6.4 L) V8 with four-barrel carburetor and dual exhausts. Optionally available were a 389 Tri-Power with three two-barrel carburetors and 318 hp (237 kW), and two other higher-output 389s including a four-barrel version rated 333 hp (248 kW) and 348 hp (260 kW) Tri-Power option. Late in the model year a "street" version of the larger 421, primarily a racing engine in 1961 and most of 1962, became available, but only in a four-barrel form rated at 320 hp (240 kW). Pontiac also offered the 421 cu in (7 l) Super Duty with two four-barrel carburetors, rated at 405 hp (302 kW), as a US$2,250 option (when the base Grand Prix listed at US$3,490). Also standard was a three-speed manual transmission, while optional transmissions included a Borg-Warner T-10 four-speed with Hurst shifter or the three-speed Roto Hydra-matic.
1963
For 1963, the Grand Prix received revised sheetmetal shared with other full-size Pontiacs, but with its own squared-off roofline with a concave rear window that contrasted with the convertible-like roofline of the 1962 Grand Prix and continued on the 1963 to 1964 Catalina and Bonneville. Also new was a Pontiac-trademark split grille with vertical headlights and round parking lights and "hidden" taillights out back. Aside from grillework, taillight covering and bumpers, chrome trim was limited to lower rocker panels, wheel arches and roofline.
Inside, the GP continued with luxurious interiors featuring bucket seats upholstered in Morrokide vinyl and separated by a console that was now built into the instrument panel containing a vacuum gauge (with Hydra-matic) and real walnut trim on the instrument panel and a dash mounted tachometer (manual transmission), along with revised custom pedal trim plates. A wide assortment of options were available including power steering, brakes, windows and driver's seat; air conditioning, eight-lug aluminum wheels with integrated brake drums, Safe-T-Track differential and other items. New options this year included an AM/FM radio, cruise control and a tilt steering wheel that could be adjusted to seven different positions.
Under the hood, the 303 hp (226 kW) 389 four-barrel V8 remained the standard engine. A new lineup of optional engines was introduced this year which included the 330 hp (250 kW) 389 Tri-Power and three versions of the larger 421 in³ V8 including a standard four-barrel version rated at 320 hp (240 kW), a 350 hp (260 kW) Tri-Power option, and the 421 HO option with Tri-Power carburetion and 370 hp (280 kW). The same selection of transmissions continued including the standard three-speed manual, optional four-speed manual or three-speed Roto Hydra-matic. Brakes were 11 in (28 cm) drums.
1964
The 1964 Grand Prix received only minor appearance changes from the 1963 edition. Those included a revised grille (based on the 1964 Bonneville/Catalina) with new "GP" logos and rear deck trim with new taillights, still hidden, again following the shape of the other big '64 Pontiacs).
Revised upholstery trims highlighted the interior, still featuring expanded Morrokide vinyl bucket seats and console as standard equipment.
Engine offerings were mostly unchanged from 1963 except that the standard 303 hp (226 kW) 389 four-barrel V8 gained three 3 hp (2.2 kW), with the extra-cost Hydra-matic transmission. The standard three-speed manual and optional Hydra-matic transmissions were unchanged from 1963, however, a new GM-built Muncie four-speed available in either a wide-ratio M-20 or close-ratio M-21 options replaced the Borg-Warner T-10.
1965
Grand Prixs and all other full-sized Pontiacs were completely restyled for 1965 featuring more rounded bodylines with Coke-bottle profiles, and a 1 in (25 mm) increase in wheelbase to 121 in (3,100 mm) (for Grand Prix, Catalina, and all Safari station wagons — Bonneville and Star Chief increased proportionally from 123 in (3,100 mm) to 124 in (3,100 mm)). While other Pontiac coupes received the semi-fastback rooflines shared with other GM divisions, Grand Prixs retained the exclusive squared-off roofline with concave rear window but a bit more rounded than the 1963-64 version. The old GM-X frame was replaced with a new box-frame with side perimeter rails.
Inside, interior were revised with all-new instrument panels featuring a larger dose of walnut trim which now extended to the center console standard with bucket seats, along with a new steering wheel with horn bars replacing the horn ring used in previous years. The standard bucket seats could be upholstered either in expanded Morrokide vinyl or a new cloth-and-Morrokide trim. New for 1965 was a no-cost bench seat option with center armrest available with either upholstery choice.
New options this year included an automatic air conditioning system for which the driver could set a constant year-round temperature setting, if desired. This system, first introduced by Cadillac in 1964, was available in addition to the regular Circ-L-Aire Conditioning. Hazard flashers were also optional.
Engine offerings were revised for 1965. The standard four-barrel 389 in³ V8 was uprated to 333 hp (248 kW) with a manual transmission or 325 hp (242 kW) with automatic. Optional engines included a 389 Tri-Power and 421 four-barrel — both rated at 338 hp (252 kW); a 421 Tri-Power rated at 350 hp (260 kW) and the 421 HO Tri-Power with 376 hp (280 kW). The standard three-speed and optional four-speed manual transmissions were carried over from 1964, however, a new three-speed Turbo Hydra-matic transmission with torque-converter that was similar in principle to Ford's Cruise-O-Matic and Chrysler's Torqueflite replaced the older three-speed fluid coupling Roto Hydra-matic (along with the four-speed Super Hydra-matic in Bonneville and Star Chief models). The Turbo Hydra-matic also featured the now-standardized P-R-N-D-S-L shift quadrant pattern in place of the P-N-D-S-L-R setup of previous Hydra-matics.
A 1965 Grand Prix road test was featured in the February, 1965 issue of Motor Trend magazine, much of which was devoted the entire Pontiac lineup receiving M/T "Car of the Year" honors for 1965. Other Pontiac road tests in that issue included a GTO convertible, Tempest Custom sedan, Catalina Vista hardtop sedan, and Bonneville hardtop coupe.
1966
The 1966 Grand Prix received only minor appearance revisions from the 1965 edition including a new more rounded split grille and new taillight trim. Inside, a revised instrument panel included a squared off gauge panel and new Strato bucket seats in either Morrokide or cloth upholstery with higher seatbacks and more contoured cushions for improved lateral support. The Strato buckets were standard equipment along with a console, but a notchback bench seat with center armrest was a no-cost option.
Engine offerings were largely unchanged from 1965 except that the 338 hp (252 kW) Tri-Power 389 option was discontinued, leaving only the larger 421 available with the three two-barrel carb option, which was offered for the last time this year due to a new General Motors edict that banned the use of multi-carb options on all GM cars with the exception of the Chevrolet Corvette starting with the 1967 model year.
1967
Revised sheetmetal with more rounded wasp-waisted styling highlighted the 1967 Grand Prix and other full-sized Pontiacs, along with the addition of a new Grand Prix convertible. Also new to the GP were concealed headlights with horizontal mounting (all other full-size '67 Pontiacs retained the vertical headlights for one more year), concealed windshield wipers and ventless front windows on hardtop coupes. Out back were louvered taillights similar to those found on the GTO.
Inside, Strato bucket seats and console were still standard equipment with Morrokide vinyl or cloth upholstery, or a no-cost optional notchback bench seat with either trims. Other changes included a revised instrument panel and door panel trim.
Under the hood, the 389 V8 was replaced by a new 400 cu in (6.6 l) V8 with four-barrel carburetor, dual exhausts and 350 hp (260 kW). Similarly, the 421 V8 was replaced by a new 428 cu in (7.0 l) V8 rated at 360 hp (270 kW) or an HO version with 376 hp (280 kW) - both with four-barrel carburetors. Both the 400 and 428 V8s were basically bored out versions of the older 389/421 block but with various internal improvements including bigger valves and improved breathing capabilities.
New this year was a dual master-cylinder braking system and optional front disc brakes along with Rally II wheels. Also new for 1967 was an energy-absorbing collapsable steering column. Plus, Pontiac added an 8-track Stereo tape player.
The Grand Prix convertible would be a one-year only offering and dropped after this one year.
1968
The 1968 Grand Prix received a new "beak-nose" grille and bumper with concealed headlights and revised rear deck/bumper with L-shaped taillights, plus side reflector markers to meet a new federal safety mandate. The convertible was discontinued, leaving only the hardtop coupe for '68.
The standard 350 hp (260 kW) 400 cu in (6.6 l) V8 was unchanged from 1967 aside from revisions in order to meet the 1968 emission regulations, both Federal and California. Both optional 428 cu in (7.0 l) V8s received higher power ratings of 375 hp (280 kW) for the base version and 390 hp (290 kW) the HO.
Interior trim only received minor changes from 1967 aside from revised door panels.
This would be the final year for the Grand Prix to be based on the B-body full-sized car platform. The 1969 GP would be all-new with an exclusive bodyshell but its chassis design was based on the smaller Pontiac A-body intermediates (Tempest, LeMans, and GTO).
Second generation (1969–1972)
1969
For 1969, John Z. DeLorean, Pontiac's general manager at the time, ordered the development of an all-new Grand Prix based on a slightly stretched version of the intermediate GM A platform, which was dubbed the G-body. The previous platform was based on the 121 in (3,100 mm) wheelbase from the Catalina, but in 1969 it was decreased to 118 in (3,000 mm). This smaller, lighter car at last had its own body, and brought a new level style and luxury into the intermediate class. The redesigned radiator, "Coke bottle" body shape and other Duesenberg styling cues, plus the longest hood yet on a Pontiac, gave the Grand Prix a feel of high luxury without the high cost. Unlike the previous generation for which a convertible was a one-year-only offering in 1967, the new Grand Prix would only be offered as a hardtop. Even the model names took elements of old Duesenbergs (J and SJ trim).
Development of the new intermediate-based 1969 Grand Prix began in April 1967 after a few prototype GPs were built on the full-sized Pontiac platform as originally planned. DeLorean and other Pontiac planners decided to make the switch in light of declining sales of the full-sized Grand Prix in comparison to competition from unique personal cars in both the luxury and sporty car fields including the Ford Thunderbird, Buick Riviera and Oldsmobile Toronado at the luxury end, along with the emerging ponycars such as the Ford Mustang and Pontiac's own new-for-1967 Firebird. To save product development costs, it was decided that while the newest GP would have a unique bodyshell of its own, the car would use the basic chassis and drivetrain from the A-body intermediates (Tempest, LeMans and GTO), in much the same manner Ford created the original Mustang in 1964 using the basic chassis and drivetrain from the compact Ford Falcon. Going this route greatly reduced development costs overall and permitted Pontiac to concentrate on more effort to upgrade the styling and sheetmetal, along with interior appointments. This move also enabled Pontiac to reduce development time for the 1969 GP from the usual 36 months required for a new model to less than 18 months.
The new model also refocused attention on performance, with increased installation percentages for manual transmissions and engine options up to the 390 hp (290 kW) 428 HO. Two engine sizes were offered with two power options were available in each engine size; a 265 hp (198 kW) 400 cu in (6.6 L), 350 hp (260 kW) 400 CID, a 370 hp (280 kW) 428 cu in (7.0 L), or the high output 428 CID. It was both a marketing and an engineering landmark, being hailed at the time as "an Eldorado for the masses" and also in retrospect as the first successful downsizing of an American car.
Inside, the 1969 Grand Prix featured a sporty and luxurious interior with a wraparound cockpit-style instrument panel that placed virtually all controls and gauges within easy reach of the driver, and was named the "Command Seat". The "Strato" bucket seats were separated by a console slanted toward the driver which included the customary floor shifter, storage compartment and ashtray, integrated into the instrument panel. Upholstery choices included standard expanded Morrokide vinyl or cloth and Morrokide, or an extra-cost leather trim. The leather interior option also included a more luxurious cut-pile carpeting replacing the regular nylon loop rug that came with standard interior trims.
Innovations introduced on the 1969 Grand Prix included a concealed radio antenna, which amounted to two wires in the windshield; an optional built-in electrically heated rear window defogger and side-impact beams inside the doors. Also new were flush-mounted "pop-open" exterior door handles instead of the normal door handles featuring a grab handle and push button.
The 1969 Grand Prix also created a new market segment—the intermediate personal luxury car with sales ending up at over 112,000 units, well above the 32,000 full-sized Grand Prixs built in 1968. The similar Chevrolet Monte Carlo followed in 1970. Ford and Chrysler responded by producing plusher versions of their Ford Torino and Dodge Charger intermediates, but both eventually created new models to enter the battle—the Ford Elite and Mercury Cougar XR-7 in 1974 and Chrysler Cordoba in 1975. The GP and the others were consider as smaller and lower-priced alternatives to the more expensive personal-luxury cars of the day including the Ford Thunderbird, Buick Riviera, and Oldsmobile Toronado along with the even pricier Cadillac Eldorado and Lincoln Continental Mark III.
The basic 1969 bodyshell continued until the 1972 model year with a major facelift in 1971, but only minor detail revisions in 1970 and 1972.
1970
Vertical grille inserts replaced the horizontal bars of the 1969, movement of "Grand Prix" nameplates from the lower cowls to the rear C-pillars and the vertical chromed louvers from the C-pillars down to the lower cowls, highlighted the 1970 Grand Prix. The optional 428 CID V8 rated at 370 and 390 hp (290 kW) in 1969 was replaced by a new 370 hp (280 kW) 455 CID V8 with 500 ft·lbf (680 N·m) of torque at 3,100 rpm. The base 350 hp 400 CID engine was still standard, but a low-compression 400 CID engine was available with a two-barrel carburetor. An automatic transmission was offered as a no cost option.
Interior trim also received minor revisions, and a bench seat with center armrest returned as a no-cost option to the standard Strato bucket seats and console. Bench seat-equipped Grand Prixs got a steering column-mounted shifter with the automatic transmission along with a dashboard-mounted glovebox, replacing the console-mounted shifter and glovebox of bucket-seat cars. Power front disc brakes became standard equipment this year.
Due to the success of the 1969 Grand Prix, other GM divisions followed suit and introduced similar cars for 1970. The Chevrolet Monte Carlo used the same basic G-body as the GP but with a two-inch shorter wheelbase (116 vs. the GP's 118) and a long hood, though still a bit shorter than the Grand Prix's, but still considered an upscale vehicle for GM's lowest-priced division. Oldsmobile, whose larger and more expensive front-drive Toronado was a direct competitor to the Thunderbird, decided to further capitalize on strong sales of its intermediate Cutlass line by introducing a new Cutlass Supreme coupe with a formal roofline similar to the GPs but on the standard 112 in (2,800 mm) wheelbase used for two-door A-body intermediates and the same lower sheetmetal used on other Cutlass models. Both the Monte Carlo and Cutlass Supreme were also much lower in price, primarily due to smaller standard engines of 350 cubic inches for both, and the fact that many items standard on the GP were optional on those models — however, all three cars with similar equipment were actually much closer in price than the base sticker prices suggest. The introduction of the Monte Carlo and Cutlass Supreme did, however, cut into the Grand Prix's dominance, and sales dropped 40%. 65,750 Grand Prixs were built in 1970.
Variations of the 1969 GP's central V-nose grille appeared on other 1970 Pontiacs including the full-sized cars and intermediate Tempest/LeMans series. Ford even got in the act by putting a somewhat similar nose on the 1970 Thunderbird, whose sales actually increased significantly over the 1969 model. Interestingly, the 1970 T-Bird styling change was reportedly ordered by Ford Motor Co. president Bunkie Knudsen, who moved from GM to Ford in 1968 after a long career at GM which included the position of general manager for the Pontiac Motor Division from 1956-1961 and ordered the addition of the Grand Prix to the 1962 model lineup.
1971
A new integrated bumper/grille and larger single headlights replacing the quad lights of 1969-70 models marked the introduction of the 1971 Grand Prix along with a new slanted boattail-style rear with taillights built into the bumper. Interior revisions amounted to new trim patterns for cloth and vinyl upholstery patterns for both the bench and bucket seats, but the leather interior option was discontinued.
Engine choices included the standard 400 CID V8 with four-barrel carburetor and dual exhausts, rated at 300 hp (220 kW); and the optional four-barrel 455 CID V8 rated at 325 hp (242 kW). Both engines received substantially lower compression ratios (8.4:1 for 1971 compared to 10.25:1 in 1970) as part of a GM-corporate edict that required engines to use lower-octane regular leaded, low lead or unleaded gasoline beginning with the 1971 model year. Transmission offerings initially were carried over from previous years, including the standard three-speed manual, or optional four-speed stick or Turbo Hydra-Matic. However, at mid-year, Turbo Hydra-Matic automatic became standard equipment and the manual shifters were dropped. Variable-ratio power steering was made standard equipment as well.
New power ratings were put into effect, requiring manufacturers to post net horsepower with all accessories installed (vs. gross rating without the accessories). This system gave a more realistic measure of power that customers actually saw. The base 400 four-barrel engine then produced only 255 hp (190 kW) after the switch to the net-rating system, and the 455 found in SJ models also dropped in power to 260 hp (190 kW) (net). Customers who wanted the higher powered 455 SJ model paid $195 to get Rally gauges, body-colored mirrors, SJ badging, a no maintenance AC Delco battery and other amenities. 1971 looked to be a good sales year for the Grand Prix, but in mid-September 1970, a corporate wide labor strike halted all GM production for 67 days. The strike also delayed the production of the second generation Grand Prix by one year in 1973. Production numbers for 1971 were lower than 1970 with only 58,325 units being produced. The strike cut into production and sales along with other possible factors including lower horsepower ratings and intense competition from Chevy's Monte Carlo and Oldsmobile's Cutlass Supreme.
1972
Minor styling revisions included a new cross-hatch grille up front and triple cluster taillights in back. Inside, the burled-elm trim was replaced by a new teakwood design and upholstery trim patterns for vinyl and cloth selections were revised for both bucket and bench seat offerings. Engine offerings remained the same as before with the major change being the change in power measurements from the previous gross method on a dynamometer to the new net ratings as installed in a vehicle with accessories and emission equipment which made the horsepower ratings of 1972 models much lower "on paper" than their 1971 counterparts though actual performance didn't change much between the two years. Under the new net horsepower system, the standard 400 CID V8 with four-barrel carburetor was rated at 250 hp (190 kW) while the optional 455 CID V8 with four-barrel carb was rated at 300 hp (220 kW).
At mid-year, Pontiac released a radial tire option for the Grand Prix, which increased the wheel diameter from the standard 14 in (36 cm) to 15 in (38 cm). The radial donuts, provided by the division's usual tire suppliers, included Firestone 500s and B.F. Goodrich Lifesaver T/As. This was the first time that Pontiac offered a radial tire option which actually became a reality. In 1968, Pontiac announced a radial tire option for the GTO that was quickly discontinued due to production problems.
Also at mid-year, a new "Fasten Seat Belts" light with buzzer was added per Federal safety regulation. This light was located in the speedometer pod and necessitated a recalibration of the speedometer from a high of 140 mph (230 km/h) back to 120 mph (190 km/h).
An all-new Grand Prix was scheduled for 1972. However, a 67-day corporate-wide strike at GM in late 1970 that hobbled the 1971 model introduction set back 1972 model production plans and the new A and G-body cars planned for 1972 were delayed for introduction by one year to the 1973 model year. Production numbers increased substantially after two years of decline, reaching 91,961 units and only second place to the 1969 model.
Third generation (1973–1977)
1973
All A-bodies, including the Grand Prix, were redesigned for 1973. This generation was larger and heavier, due partly to the federally-mandated 5 mph (8.0 km/h) crash bumpers. Although large V8s were still available, performance was on the decline due to another federal standard—a new emissions control system. The most notable styling feature of this generation was the appearance of the fixed opera window, replacing the previous disappearing rear side glass. This year's Grand Prix switched from pillarless hardtop design to a pillared "Colonnade" hardtop with frameless door glass as did all GM intermediates in response to proposed federal safety standards regarding roll-over protection that would have ultimately spelled the end of pillarless and convertible bodystyles, a mandate that never materialized. The 1973-77 GM intermediates with their pillared hardtop design were often referred to as "Colonnade hardtop coupes" or "Colonnade hardtop sedans".
Front and rear styling of the 1973 Grand Prix turned out be an evolution of the 1971 and 1972 models with a vertical-bar V-nose grille and single headlamps along with the new federally-mandated 5 mph (8 km/h) front bumper. The rear featured a revised boattail-like trim with square-taillights above the bumper.
Inside, a new instrument panel continued the wraparound cockpit theme of previous models with new African Crossfire Mahogany facing on the dashboard, console and door panels, which was "real" wood in contrast with the simulated woodgrain material found in most car interiors during that time. The Strato bucket seats were completely new with higher seatbacks and integrated headrests in Morrokide or scivvy cloth trims, and optional recliners and adjustable lumbar support, with a notchback bench seat offered as a no-cost option.
The standard drivetrain consisted of the four-barrel 400 CID V8 rated at 230 hp (170 kW) and the Turbo Hydra-Matic transmission. Also standard were power steering and power brakes. A four-barrel 455 CID V8 was optional and included with the "SJ" option that also added a rally gauge cluster and a radial tuned suspension with front and rear sway bars, Pliacell shock absorbers and radial-ply tires.
Although the Third Generation Grand Prix was indeed bulkier and heavier than its predecessor, handling was very good for such a large car, due to improvements in suspension design that gave better stability and cornering. The introduction of radial-ply tires was also a boon for handling. GM's "A" body cars' front suspensions were based on the road-hugging Chevrolet Camaro and Pontiac Firebird during this production run.
Grand Prix production set a new record of over 150,000 units, easily breaking the previous record of over 112,000 units in 1969, despite intense competition from a similar restyled Chevy Monte Carlo, and "near" personal luxury coupes such as Buick's all-new Century Regal and Oldsmobile's Cutlass Supreme — both of whose styling and appointments were very similar to the GP and Monte, and even shared the same squared-off formal roofline with opera windows - but used the standard A-body coupe body and 112 in (2,800 mm) wheelbase shared with lower-priced models. The success of the GP (and Monte) led to direct responses from Ford Motor Company the following year with a larger Mercury Cougar and Ford Elite, which were followed by Chrysler Corporation entries in 1975 including the Chrysler Cordoba and Dodge Charger SE.
1974
The 1974 Grand Prix received a revised split grille with vertical bars that was entirely above the bumper. Out back, the boattail effect was softened somewhat thanks to a new federally mandated 5 mph (8.0 km/h) bumper that was added to the similar mandated front bumper introduced in 1973. The license plate and fuel filler were moved above the bumper and taillight lenses were revised.
The interior trim remained virtually unchanged from 1973, with standard seating choices, including Strato bucket seats with center console or notchback bench seat with an armrest and cloth or Morrokide upholstery. The bucket seats were available with optional recliners and adjustable lumbar support. However, the real African Crossfire Mahogany trim was replaced by a simulated material for the instrument panel due to splintering problems on '73 models; the "real" wood was continued on the console and door panels for another two years. Also, a new cut-pile carpeting replaced the nylon loop rugs of previous years.
Also new for 1974 was a federally mandated interlock system that required the driver and front-seat passenger to fasten their seat belts in order to start the car. This regulation, which was very unpopular with the buying public, was offered only this one year and on some early 1975 models. It was rescinded by Congressional action due to the public uproar.
Engines were carried over from 1973, including the 400 CID V8 (standard on the Model J) and 455 CID V8 (standard on the Model SJ, optional on the Model J). A Turbo Hydra-Matic transmission, variable-ratio power steering, and power brakes were standard equipment on both models. In addition to the 455 V8, the Model SJ also added a Rally Gauge Cluster, "SJ" identification, and a radial-tuned suspension similar to Pontiac's Grand Am. Radial tires were also a new option on the Model J this year.
Sales of Grand Prixs for the 1974 model year dropped from 1973's record of around 150,000 units to just under 100,000 units primarily due to new competition in the intermediate personal-luxury car market from a new upsized Mercury Cougar XR-7 coupe and Ford Elite, both based on the Dearborn's intermediate Torino/Montego platform. Still, 1974 was the third best-selling year to date for the Pontiac Grand Prix.
1975
A revised grille with fewer vertical bars and revised taillight lenses marked the 1975 Grand Prix. Mechanical changes this year included the addition of GM's High Energy electronic ignition and a catalytic converter that mandated the use of unleaded gasoline. Radial tires became standard on all models.
A new luxury LJ model was added as the new top model while the SJ series played the sporty card. Base Model J remained available. The LJ included pinstriping and a luxurious velour interior trim. Speedometers were revised with numerals now topping at 100 mph (160 km/h) rather than the 120 or 140 mph (230 km/h) readings found in previous years and speed readings in kilometers were added.
The addition of the catalytic converter spelled the end of dual exhaust pipes for 1975 and detuning of engines. The 400 CID V8 (standard on J and LJ models) dropped from 230 to 180 hp (130 kW) while the 455 CID V8 (standard on SJ, optional on J and LJ) was detuned from 250 to 200 hp (150 kW). New for 1975 was a more economical 170 hp (130 kW) 400 CID V8 with two-barrel carburetor, which was available as a no-cost option on J and LJ models.
Early 1975 models featured the seat belt interlock system introduced on all 1974 models that required both the driver and front passenger to fasten their seat belts in order to start the vehicle. However, Congressional action to rescind that regulation, which led automakers to discontinue the device and permitted dealers and garages to disconnect the device on cars so-equipped.
Sales dropped to 86,582 units thanks to an ageing design, continued recession resulting from the 1973-74 energy crisis, substantially higher prices for all 1975-model cars due to that year's safety and emission control regulations, and intense competition from Ford's Cougar and Elite, and Chrysler Corporation's two new entries in this class including the Chrysler Cordoba and Dodge Charger SE.
Model mix was 64,581 base J models, 7,146 SJs, and 14,855 of the new LJ.
1976
A new split vertical bar "waterfall" grille and quad rectangular headlights in front and revised taillight lenses out back highlighted the 1976 Grand Prix. The same three model designations continued (J, SJ and LJ) with the LJ and SJ offering the same trim and equipment levels as in 1975 with the exception being the SJ downgraded to a standard 400 CID V8.
The base Model J underwent a number of content changes to cut the base price by around $500 to be more competitive with other mid-sized personal luxury cars. Those changes for the "J" included a smaller 160 hp (120 kW) 350 CID V8 as the base powerplant and some downgrading of interior trim that included a new notchback bench seat made standard equipment and the Strato bucket seats/console moved to the "option" list. Also, custom features such as a cushioned steering wheel and custom pedal trim plates were moved to the option list on Model J, but remained standard on LJ and SJ, both of which also continued to include Strato bucket seats as standard equipment. All models got a new simulated rosewood trim for the dash, door panels and console (with bucket seats) that replaced the African Crossfire Mahogany trim of previous years. Upholstery choices included cloth or Morrokide vinyl bench or bucket seats on the Model J, velour buckets on the LJ or Morrokide buckets on the SJ. Leather interior trim was a new extra-cost option available with the Strato bucket seats and LJ and SJ models. Both the "LJ" and "SJ" models came standard with a 180 hp (130 kW) 400 CID V8 that was optional on the Model J. The 200 hp (150 kW) 455 CID V8 was optional on all models.
In celebration of Pontiac's 50th anniversary in 1976, a number of special edition Grand Prix were produced. These models were based on the LJ model, featured removable Hurst T-tops, Rally II wheels, special "Anniversary Gold" paint (actually the new Cadillac Seville's "Autumn Gold) accented by a white opera roof and white side protection. Among the other distinctions was special badging with Golden hood and trunk medallions and a Golden "arrow head" logo in the (standard) sport steering wheel. Mechanically, they were similar to the regular models. This was the only anniversary model offered by Pontiac.
Grand Prix production increased: sales went up to 228,091 units total (a plus of 226%), making this Bicentennial year easily the best in Grand Prix' history — and second in its class only to the Chevrolet Monte Carlo with 353,272 units. This included 110,814 base model Js, 88,232 SJs, and 29,045 LJs (including 4,807 Golden Anniversary editions and a single demonstrator with Pontiac's not yet introduced 301 CID V8 engine.
1977
Revised grille work with fewer vertical bars, a stand-up hood ornament and revised taillight lenses with "GP" logos highlighted the 1977 Grand Prix, which was the final year for the 1973-vintage bodyshell which was set to be replaced by a downsized GP for 1978. The same three models (J, LJ and SJ) were carried over with engine revisions. The base Model J got Pontiac's new 135 hp (101 kW) 301 CID V8 as standard equipment, which was a bit too small and underpowered to propel a 4,000-pound car. Optional engines included a 160 hp (119 kW) 350 CID V8 or 180 hp (130 kW) 400 CID V8; those two engines standard on the LJ and SJ models, respectively.
Each of those engines were Pontiac-built units as in previous years, but offered in 49 of the 50 states. Because Pontiac's own V8 engines could not meet the more stringent California emission standards set for 1977, all Grand Prixs (and other Pontiac models) sold in California were powered by Oldsmobile-built engines including Lansing's 350 CID Rocket V8 for J and LJ, and the 403 CID Rocket V8 standard on the SJ and optional on the other two GPs in California. Due to a shortage of Olds 350 engines resulting from record sales of Cutlasses and reduced production of that engine due to a plant conversion to build a Diesel V8 beginning in 1978, a few 1977 Grand Prixs destined for California reportedly came off the line with a Chevrolet-built 350 CID V8.
Grand Prix sales increased to an all-time high of over 270,000 units for 1977, the last year for this bodystyle, despite competition from a newly downsized and lower-priced Ford Thunderbird introduced this year and a restyled Mercury Cougar XR-7 whose bodyshell switched to the T-Bird this year from the discontinued Ford Torino/Mercury Montego.
Fourth generation (1978–1987)
1978
1978 brought a downsizing of the Grand Prix and the other A-bodies. This version of the A-body also received some sheetmetal revisions in 1981. The 1978 GP was about 1 ft (0.3 m) shorter and 600 lb (270 kg) lighter than the 1977 model with an overall length of 200 in (5,100 mm) and a 108 in (2,700 mm) wheelbase.
For the first time in Grand Prix history, a V8 engine was not standard equipment. In order to meet Corporate Average Fuel Economy (CAFE) mandates set after 1973-74 energy crisis, a Buick-built 231 CID V6 was standard equipment on the base model (formerly the Model J) and two versions of the Pontiac 301 CID V8 (Chevy 305 V8 in California) were optional. The luxury LJ model came standard with the 135 hp (101 kW) 301 V8 with two-barrel carburetor while the sporty SJ was powered by a 150 hp (110 kW) 301 V8 with four-barrel carburetor. Top speed for the six-cylinder was about 96 mph (154 km/h), while the top-of-the-line 150 hp (110 kW) V8 was 109 mph (175 km/h).
A floor-mounted three-speed manual transmission was standard equipment with the V6 on the base model and the three-speed Turbo Hydra-Matic automatic was optional. Turbo Hydra-Matic was standard on LJ and SJ models and base models with either of the optional V8 engines. Standard seating choices by model included a notchback bench seat with cloth or Morrokide vinyl in the base GP, a pillowed velour cloth notchback bench seat in the LJ or Strato bucket seats in cloth or Morrokide in the SJ. The Strato buckets were optional on the base GP and a 60/40 split bench was optional on both base and LJ models. Viscount leather upholstery was available with bucket seats on SJ models.
1979
A new crosshatch grille and revised taillight lenses were the only appearance changes made to the 1979 Grand Prix. The same models, base, LJ and SJ continued as before as did the basic engine lineup including the 231 cubic-inch Buick V6 standard on base and LJ models, the 135 hp (101 kW) 301 CID Pontiac V8 with two-barrel carburetor that was optional on both of those models, and the 150 hp (112 kW) 301 V8 with four-barrel carburetion that was standard on the SJ and optional on the other models. Transmissions remained the same as before with the three-speed manual standard with the V6 engine on the base model and automatic transmission optional. The automatic transmission was standard on LJ and SJ models and all models when a V8 engine was ordered. Again, the Pontiac V8s were not available in California, where they were replaced by Chevy 305s rated at 140 and 160 hp (120 kW). A new and one-year-only option this year was a four-speed manual transmission available with the 301 four-barrel or two-barrel V8 on all models. Only 232 4-speed/301 V8 cars were built.
1980
The 1980 Grand Prix returned to a vertical bar grille and featured new taillight lenses with "GP" logos. Automatic transmission was standard equipment on all models and the two-barrel 301 Pontiac V8 was replaced by a new 265 CID V8 rated at 125 hp (93 kW). The Buick 231 V6 and the four-barrel version of the Pontiac 301 V8 were carried over from the previous year as was the Chevy 305 V8 offered in California.
1981
A minor reskinning of the sheetmetal for improved aerodynamics marked the 1981 Grand Prix along with a new grille design and revised tail section. The sporty SJ model was dropped and a new ultra-luxurious Brougham series was now the flagship of the Grand Prix line. The Brougham models came standard with all power options, a plush cloth interior similar to the full-sized Bonneville Brougham, and a half roof vinyl top with coach lamps. The base and LJ models continued as before. All models now came standard with the Buick 231 V6 with the 265 CID Pontiac V8 available as an extra cost option (Chevy 305 V8 in California). The 301 V8 was discontinued and a new option this year was the Oldsmobile-built 350 CID Diesel V8, which was not often ordered due to high cost of around $700 and poor reliability. The year 1981 was also the last for Pontiac Motor Division to offer its own V8 engine due to an emerging GM corporate engine policy that determined Pontiac would build only four-cylinder engines and Buick only V6 engines, leaving Chevrolet and Oldsmobile to build V8 engines for most GM cars and trucks, while Cadillac would produce its own aluminum-block V8 that debuted in 1982. From 1982-on, all V8-equipped Pontiacs were equipped with Chevy or Olds engines.
1982
The 1982 Grand Prix was a virtual re-run of the 1981 model with no appearance changes to note. No gasoline-powered V8 engines were offered this year (in the U.S. only — Canadian GPs were available with the Chevy 305 V8 as an option in '82), leaving only the standard 231 CID Buick V6, a larger Buick 252 CID V6 and the Olds 350 Diesel V8. The A-body line became front-wheel-drive, leaving the rear-wheel-drive midsize platform as the G-body. The downsized four-door Bonneville was now related to the Grand Prix. The automatic climate control option was also dropped in 1981, leaving just a manual climate controls on all models. Also most 1982 models had a two tone interior. Front suspension was independent with wishbones, coil springs, antiroll bars and telescopic shocks while the rear still had a live axle.
1983
1983 Grand Prix models specifically had no hood ornament and trim, and no rear trunk lock cover. One significant engine change to note was the 252 V6 was discontinued and the gas-powered V8 returned after a one-year absence (on U.S. models) in the form of a 150 hp (110 kW) Chevy 305. 1983 also marked the end of the LJ series, as the LE model would be added in 1984.
1984
Some minor changes and revisions marked the 1984 Grand Prix, including a new octangular Pontiac hood ornament, gauges with orange needles and red markings (previous 1978–1983 Grand Prix gauges had white needles), a T-shaped console shifter, an updated bucket seat design, as well as a woodgrain plate above the glove box (previous 1978–1983 Grand Prixs used a black plate). A new optional four spoke steering wheel was also available. The base and Brougham models continued as before but the LJ was replaced by a new LE model. Same engines continued as before including the Buick 231 CID V6, Chevy 305 CID V8 and Olds 350 CID Diesel V8. A new option this year was the Turbo Hydra-Matic 200-4R four-speed overdrive automatic available with the 305 V8 for improved highway gas mileage.
1985
For 1985, Grand Prix's now included a new checkerboard grille design, as well as an optional two tone paint schemes with a fading body stripe. New taillights with an octangular GP logo also debuted. 1985 marked the last year for the flat rear deck panel in the interior, as by 1986 laws mandated cars to have a third brake light installed. New rectangular digital ETR stereo system options were introduced and replaced the dial pushbutton stereos. Some more rarer options specific for the 1985 Pontiac Grand Prix include a factory rear spoiler, rare aluminum turbo finned wheels, and a full size spare tire. The standard engine for 1985 was the 110 hp (82 kW) Buick built 3.8 L V6 with a 150 hp (110 kW) Chevy 5.0 L V8 optional. The 5.7 L Olds Diesel V8 was dropped from the option list.
An ad for the '85 GP promoted the fact that its instrument panel still used dials for gauges. It was highlighted by a question similar to one long used in advertisements for Dial soap since the late 1950s, "Aren't You Glad We Use Dials. Don't You Wish Everybody Did?"
1986
An updated taillight design with three sections was the only major change to the 1986 Grand Prix. A new 2+2 model was offered for homologation of an Aerocoupe body for NASCAR competition, as Chevrolet had released the Monte Carlo SS Aerocoupe in 1986 as well. 2+2 specific pieces are an aero nose, bubble rear glass and a fiberglass trunklid with integral spoiler. All 2+2 models were fully loaded and came equipped with a corporate 305 four barrel, 200-4R 4-speed automatic transmission and 3.08:1 rear axle ratio, two-tone silver paint top with gray on bottom with 2+2 decals and striping, and 15X7 steel rally II wheels. Approximately 1,225 Grand Prix 2+2's were built in 1986. While the 3.8 L V6 remained standard, a fuel-injected 4.3 L Chevrolet 90° V6 was added to the option list for models other than the 2+2. This engine was available with a 3-speed automatic or a 4-speed automatic.
1987
The 1987 Grand Prix was basically a rerun of the '86 model aside from the discontinuation of the 2+2 model. The same three models were continued including base, LE and Brougham. Engine offerings again included the standard Buick 3.8 L V6, the Chevrolet 4.3 L V6 or optional Chevrolet 5.0 L V8.
This would be the last year for the G-body Grand Prix, which would be replaced by the all-new W-body version in 1988. The '87 was also the last GP to feature rear-wheel-drive, V8 engines (until 2006) and separate body-on-frame construction.
Gallery
Evolution of the Pontiac Grand Prix
Community content is available under
CC-BY-SA
unless otherwise noted.