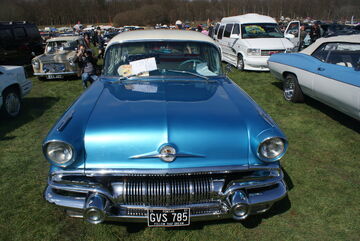 The Star Chief was a car built by General Motors' Pontiac division between 1954 and 1966.
Between 1954 and 1957, the Star Chief was Pontiac's prestige model; the car was easily identified by its chrome star trim along its sides. When the storyline of I Love Lucy pointed towards a Hollywood setting in the 1954-1955 season, the characters "drove" (in episode 110, "California Here We Come") to the West Coast in a 1955 Star Chief convertible. In 1954, Pontiac also introduced air conditioning with all the components under the hood, a first for the price range. Seat belts were added as options in 1956.
In 1957, the high performance Star Chief Custom Bonneville was introduced as part of its divisional head's push to raise the marque out of the doldrums. The silver streaks running down the hood were dropped. All gauges where placed in an oval on the dash.
In 1958, the Bonneville was first given its own position in the Pontiac lineup as the ultimate Pontiac, and was only available as a two-door hardtop and two-door convertible. While no longer Pontiac's prestige model, the Star Chief remained a well-appointed car. However, in 1959, when the Bonneville gained a full range of body styles, the Star Chief was limited to sedans and hardtops, while the Bonneville and the new Catalina models received the lion's share of Pontiac's attention in the marketplace. In 1959, the Star Chief made 17.97% of Pontiac sales. This was also the first year of the "wide-track" Pontiac's.
In the early 1960s, Star Chiefs were nearly identical to the Catalina, however, the Star Chief's engine output was higher. The Star Chief also came standard with interior trim upgrades, and it was built on the longer Bonneville platform. For 1962, Pontiac offered a 421 cu in (7 l) Super Duty V8 with three two-barrel carburetors, rated at 405 hp (302 kW), as a US$2,250 option (when the base Star Chief listed at US$3,097).
In 1966 the car was renamed the Star Chief Executive as the first step towards retiring the name, which by the mid-1960s had become dated. In 1967, Pontiac dropped the Star Chief name for United States sales and renamed the mid-priced model the Executive.
Gallery