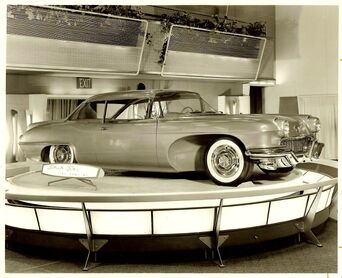 The 1955
Pontiac Strato-Star
concept car was a 6-passenger coupe that debuted at the 1955 GM Motorama in New York City.
It was a functional Pontiac dream car and was powered with the new 1955 Pontiac V8 engine with modifications producing 235 horsepower. With ultra-slim door pillars and lots of glass, it stood only 53-inches high. Hinged 6-inch roof panels built into the roof opened and closed automatically when the doors opened.
Fresh air intakes were built into each front fender above the single headlights. Parking lamps were built into twin pods suspended below the outer section of the front bumpers. Pontiac stylists retained the old-fashioned Silver Streak moldings.
The rear of the Strato-Star was very futuristic looking. Pontiac designers adapted many styling cues like the rolled pan, nerf bar bumperettes, and frenched visored taillights. Tail fins were a natural back then. Fiberglass door trim panels were used inside the car.