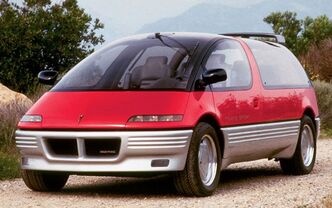 The
Pontiac Trans Sport Concept Car
was a car built by the famous Department X in 1986.First shown to the public in 1986, the Pontiac Trans Sport concept car was extremely well received. It featured futuristic styling, individually removable bucket seats with built-in stereo speakers, a gull-wing rear passenger door and extensive use of glass including a glass-paneled roof as well as many other "dream car" features such as a built-in Nintendo Entertainment System. The original concept version of the Trans Sport was placed on display in the TransCenter post-show area of the former Epcot attraction,
World of Motion
, at Walt Disney World, which was sponsored by General Motors.
Based on the warm reception the concept vehicle received, the Pontiac Trans Sport was approved for production in 1987. However, as is often the case, the styling and features showcased on the concept did not make the translation to the mass-produced edition. The gullwing door was deemed too expensive to produce and would probably have hit overhead garage doors in suburban garages. The glass roof was too heavy and too expensive, so the resultant production vehicle made-do with high-gloss black painted panels for the roof to suggest the glass canopy the concept sported.
The car was later put into production in 1990.
Community content is available under
CC-BY-SA
unless otherwise noted.