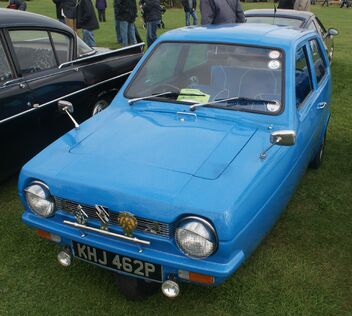 The
Reliant Robin
is a small three wheeled car formerly manufactured by the Reliant Motor Company in Tamworth, England. Despite its size, by being a three-wheeler with an official mass below 450 kg (992 lb), the Robin can be driven by holders of a B1 category driving licence in the United Kingdom, and registered and taxed at motorcycle rates, which gives a saving of 55 GBP per year over a conventional car. The single wheel in the front steers, while the engine (also in the front) drives the rear axle.
History
The Robin was first manufactured in October 1973,a direct replacement for the Reliant Regal. The final original version of the Robin rolled off the production line in 1981, when the model was replaced by the restyled Reliant Rialto. The vehicle was also produced under license in Greece by MEBEA between 1974 and 1978. It was also manufactured in India by Sunrise Automotive Industries Limited as Badal.
In 1989, Reliant revived the Robin name, producing a new and totally revamped Robin featuring a new fiberglass body, and increased engine power. The Rialto continued in production alongside the new Robin until 1998. This Robin was face lifted again in 1999 when the final version was launched that had its biggest change since originally launched with completely new panels, and Opel Corsa front lamps. Designed as a hatchback-only model lasted until February 2001 when Reliant announced the end of production. The final sixty-five Robins designed in 1999 manufactured by Reliant formed a Special Edition known as the Robin 65, featuring leather trim, walnut interior, and a numbered plaque, and sold for approximately £10,000. Manufacturing of the Robin resumed under license by a company called B&N Plastics in July 2001, but stopped in October 2002.
Gallery
Community content is available under
CC-BY-SA
unless otherwise noted.