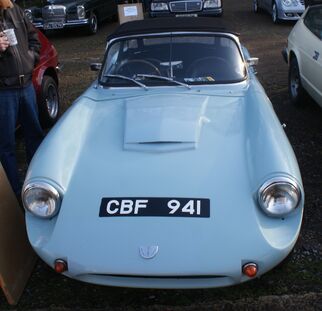 The
Reliant Sabra
was a prototype vehicle built for Yitzhak Shubinsky of Autocars Ltd. Israel.
Autocars bought the rights to Lesley Ballamay's ladder frame chassis and an Ashley 1172 fibreglass bodyshell in order to make an instant sports car to sell to America.
In less than nine months the Reliant engineers had successfully modified the chassis, bodywork, suspension and had come up with their first prototype of the sports car  for the Israeli customer. It was powered by a Ford Consul 1703cc engine.
They had front disc brakes, rack and pinion steering, and a ZF all-synchro gearbox. The front suspension was an unusual leading-arm set-up.
Power output was 73 bhp giving at least 90 mph
The car was named the "Sabra" and Mr.Shubinsky was delighted with the result.  The idea being that the Autocars Company could build the new sports car and sell them to America.  The Sabra sports car made its first appearance in the US  during the World's Trade Fair held at the New York Coliseum in May 1961.  
Reliant produced the first 100 Sabra Sports cars to give Autocars time to prepare their workshop in Haifa (Israel) and also shipped them to the USA on behalf of Autocars.  Reliant would then send the rest of the cars in kit form to Autocars, who would then assemble them ready for sale.
Western importation for the firm was handled by Sabra Motors Inc. of Beverly Hills, California and the US press reported it as being a "very limited production car".
Reliant saw the opportunity to market the Sabra in the UK and quickly converted two left hand drive Sabra sports cars into right hand drives and changed the spelling of "Sabra" to "Sabre" to indicate the British version.
In 1971 Autocars went into liquidation, thus ending the partnership between Autocars and Reliant.  Some Sabra body kits were left over and were held by the government.  These were eventually sold off some years later.
Gallery