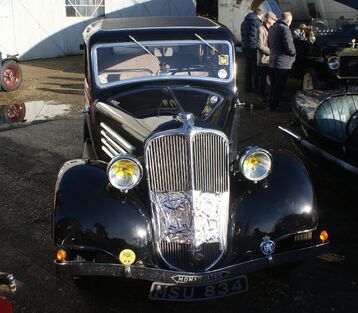 The
Monaquatre
(Type UY1) was a small family car or compact automobile assembled by Renault between 1931 and 1936. It used a conventional front engine / rear wheel drive configuration and was powered by a four-cylinder water-cooled engine.
Details and Evolutions
Launched in October 1931, the Monaquatre was similar in design to Renault Primaquatre mid-size car.
At the 1932 Paris Motor Show the new Type YN1 version appeared, the engine size increased from 1289 cc to 1463 cc.
In 1933 the type YN2 appeared at the Paris Motor Show, featuring a redesigned bonnet / hood and a new engine of 2120 cc straight-4, 35 HP. This engine remained in production until in 1936), but the YN2 itself was produced for only three months before the new more aerodynamic Type YN3 1934 appeared in 1934.
In September 1935 the production of the final version, the Type YN4, ceased like models 1936 Type YN4. The Monaquatre was replaced by the Renault Celtaquatre.
Types
UY1
YN1
YN2
YN3
YN4
Boulangère
Characteristics
Speed: 85 km/h (53 mph)
Power: 25 HP (7CV), 30 HP (8 CV), 35 HP (9CV)
Brakes: with cables on drums AV and AR
Battery: 6 V