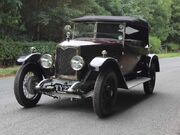 The
Riley 11.9
was a middle-class passenger car with a four-cylinder engine that was produced by Riley. The car was introduced in 1924 as a stronger version of the 10.8.
The car had a four-cylinder engine with 1645 cc displacement, lateral vertical valves, and water cooling. The engine produced 42 bhp (31 kW) at 3,600rpm and was fitted with a Zenith carburetor. The chassis had a length of 2,743 mm, the bodies of the four-seat touring car were 4115 mm long and 1,676 mm wide. All four wheels were fitted with semi-elliptic leaf springs. The chassis weighed 648 kg.
Simultaneously the Riley 11/40 was built, instead of the Zenith carburetor, it had a Cox carburetor. Otherwise, there were no technical differences.
In 1929 production was stopped.
Community content is available under
CC-BY-SA
unless otherwise noted.