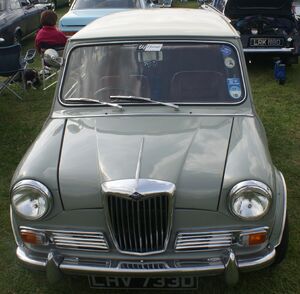 The Riley Elf was very closely built with the Wolseley Hornet and the traditional British Mini. Originally they used an 848 cc engine but in 1963 that changed to a single carburettor version of the Mini Cooper's 998 cc power unit. The Elf had a bigger boot than the Mini and was slightly more luxurious.
Built as more upmarket versions of the Mini, the Riley Elf had longer, slightly finned rear wings and larger boots that gave the cars a more traditional three-box design. Wheelbase of the Elf remained at 2.036m, whereas the overall length was increased to 3.27m. This resulted in a dry weight of 638kg/642,3kg (rubber/hydrolastic suspension) for the Elf.
The Elf had larger-diameter chrome hubcaps than the Austin and Morris Minis, and additional chrome accents, bumper overriders and wood-veneer dashboards.
Mark I models were equipped with single leading shoe brakes on the car's front.
The Elf went through three versions. Initially, it used the 848 cc 34 BHP engine (engine type 8WR) with a single HS2 carburettor, changing to a single HS2 carburettor 38 BHP version of the Cooper's 998 cc power unit (engine type 9WR) in the Mark II in 1963. This increased the car's top speed from 71mph (114km/h) to 77mph (124km/h). Therefore Mark II cars also came with increased braking power in form of front drum brakes with twin leading shoes to cope with the increased power output. Both Mark I and Mark II featured 4 gear, 3 synchromesh gearboxes with rod gear change (aka "magic wand" type). Automatic gearboxes became available on the Mark II in 1965 as an option. The Mark III facelift of 1966 not only brought wind-up windows and fresh-air fascia vents: disk brakes replaced front drum brakes. Also concealed door hinges were introduced two years before these were seen on the mainstream Mini. The gear selecting mechanism was updated to the rod type as seen on all later Mini type cars. Automatic was available to the Mark III in 1967 again. Full 4 synchromesh was eventually introduced during 1968. 30,912 Riley Elfs and were built. Production ceased in late 1969 when British Leyland decided not to use the Riley brandname anymore.
Gallery
Community content is available under
CC-BY-SA
unless otherwise noted.