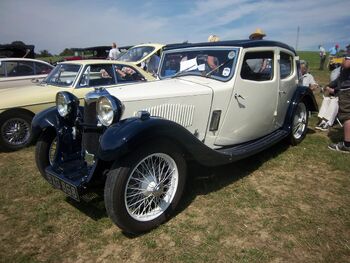 The Kestrel is a car that was made by Riley between 1933 and 1936.
The Kestrel body was launched on the Riley 14/6 chassis in 1932, and soon became available with the 12/6 engine as well. It was officially available until 1935, when the 12/4 engine took over. However, it is suspected that at least one 12/6 Kestrel was produced later, as the engine was still available on special request. All of the original run would have borne 4-light bodies.
The Kestrel came with a 1458cc six cylinder engine (although other engine sizes were available) that had overhead valves, overhead camshafts and short pushrods. The engine was connected to four speed gearbox via a single plate clutch. The engine could produce 50-55 bhp and take the car to a top speed of 70 mph.
The chassis was 9 ft 6 in and had semi-elliptic leaf springs all round. The car was fitted with Riley Continuous Cable with Cam-Operated Shoes inside 13 in drums.
The car cost £348 in 1933 and £358 and in 1934.
Gallery