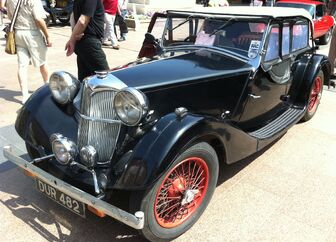 The
Lynx
was a car made by Riley between 1933 and 1936.
The Riley Lynx was announced at the 1932 Motor Show.
The Riley Lynx was regarded a four-seater sports car or as a tourer and this depended on which engine was fitted. The Lynx initially started production as a two-door form but this was changed to a four-door form after a year of production.
The 2-door was only available on the first few Nines and 6-cylinder cars. The model remained as a listed production model on both the 12/4 and 16/4 chassis until the very end of Riley independence, although it is thought that the last 12/4 Lynx was built sometime in mid 1937, and there was only ever one 16/4 built.
The Lynx was fitted with a 1468cc 6 cylinder engine. The engine featured overhead twin camshafts with short pushrods. The engine was mated to a four speed gearbox via a single plate (or centrifugal) clutch. The top speed of the car was 70mph.
The chassis was 9ft 6in and had semi-elliptical leaf springs all round. The car featured Riley Continuous Cable with Cam-Operated Shoes inside 13 inch drums.
The car cost £338 in 1933 and £348 in 1934.