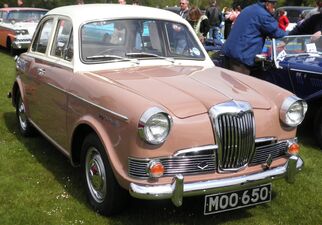 The
Riley One-Point-Five 
and similar
Wolseley 1500
were motor vehicles based on the
Morris Minor
floorpan, suspension and steering but fitted with the larger 1489 cc B-Series engine and
MG Magnette
gearbox. Launched in 1957, the twins were differentiated by nearly 20 hp (15 kW), the Riley having twin SU carburettors giving it the most power at 68 hp (50 kW). The Wolseley was released in April of that year, while the Riley appeared in November, directly after the 1957 London Motor Show.
The Series II model came out in May 1960. The most notable external difference was the hidden boot and bonnet hinges. Interior storage was improved with the fitting of a full width parcel shelf directly beneath the facia.
The Wolseley also had a Series III launched in October 1961 which featured a revised grille and rear lights.
In October 1962 the car received the more robust crank, bearing and other details of the larger 1,622 cc unit now being fitted in the Austin Cambridge and its "Farina" styled clones. Unlike the Farina models, however, and unlike their own Australian built sibling, the Wolseley 1500 and Riley one-point-five retained the 1,489 cc engine size with which they had been launched back in 1957.
Production ended in 1965 with 39,568 Rileys and 103,394 Wolseleys made.
BMC in Australia also produced its own versions of this design, the Morris Major and Austin Lancer (1958-64.) The Australian versions were less luxurious and had many notable differences from the Riley / Wolseley cars, also, the design was substantially revised in 1959.
Motorsport
The One-Point-Five was entered at the second race of the British Touring Car Championship in 1958, finishing second in class. This was followed by a breakthrough class win for the car a race later, with Les Leston at the wheel. Between 1958 and 1963, the One-Point-Five achieved sixteen class wins from seventy six entries, and took the 1961 Class B championship.
The One-Point-Five was also noted for its use in the championship shootout at the end of the 1958 BTCC season. With Jack Sears and Tommy Sopwith tied on points at the end of the season, the pair battled in a two race duel for the title. With both using One-Point-Fives, Sears proved the quicker of the two over the two races, winning the title.
Gallery
Community content is available under
CC-BY-SA
unless otherwise noted.