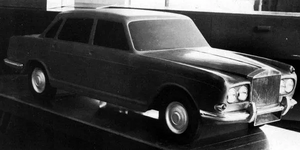 The Rolls-Royce Rangoon was a concept car which was produced by the British luxury car manufacturer Rolls-Royce. The car was built in the early 1960s as part of a collaboration with BMC. It was a technically an identical sister model of the Bentley Bengal. Rolls-Royce explored with this vehicle, the possibilities to develop a smaller, cheaper car, below the market of the large Silver Cloud. The Rangoon was closely associated with the BMC ADO17.
History
In 1961 Rolls-Royce was planning for the introduction of a vehicle in the upper middle class, which would be able to sell in large numbers to a younger audience. Rolls-Royce subsequently developed a luxury car based on the Vanden Plas Princess 3 Litre,  which in turn was a high-quality version of the BMC ADO53.
In 1962 it became apparent that BMC would replace the ADO53 with the ADO17. The series, which whould be offered in different versions of Austin, Morris and Wolseley but not Vanden Plas. BMC initially considered the production of a Vanden Plas version but this was ultimately not implemented.
Rolls-Royce took up the concept of the ADO17 and used it to develop the basis of a small luxury sedan that was called Rangoon and Bengal. The Rangoon/Bengal took the striking cabin of ADO17 unchanged, which included in particular the generous side windows and wide doors. In contrast, the front and rear sections were independently designed. There was the brand's signature grille on a Rolls-Royce or Bentley, flanked by two horizontally arranged dual headlamps at the front of the vehicle. The front end design took some elements of the later Rolls-Royce Silver Shadow.
Powering the Rangoon/Bengal was a 4.0-liter six-cylinder engine which was developed independently by Rolls-Royce. The engine was named the F60, it had an aluminum engine block and dry liners. The engine had a maximum power output of ​​175 hp.
1963 and 1964 produced some styling models; drivable prototypes were, however, not built. In 1964 there were increasing doubts at Rolls-Royce, whether such a vehicle could be sold for profit. Rolls Royce subsequently revised the design of the passenger cockpit. This work increased the independence of the optically identical model, making the car unable to be used in a low-cost mass production line. Ultimately, the increased costs were the main reason that the project Rangoon/Bengal was scrapped in 1964.
Community content is available under
CC-BY-SA
unless otherwise noted.