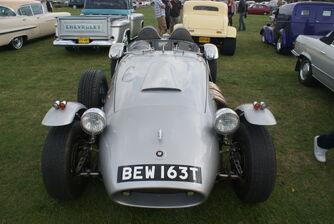 The W152 was the first car produced by Ronart Cars, design began in 1981 and production started in 1986.
The W152's style is based on that of the front-engined Formula 1 cars of the 1940s and 1950s. The external exhaust system and hump style headrest are key design features of a car from that era.
The W152's mechanicals are from a Jaguar XJ6 from 1968-1986. There are three different engine options in a W152, the Jaguar XK6, AJ6 or V12. Any appropriate gearbox can be used but normally a suitable manual gearbox from a Jaguar is used. The W152 uses the independent rear suspension (IRS) unit and front wishbones from the Jaguar donor car but instead of using the standard springs and shock absorbers, it utilises modern coil over shocks.
The W152, does not have any doors (and on most cars) nor a windscreen, instead it uses two small Brooklands aero screens in the style of those classic Formula 1 cars. It has two seats which share a backrest.
Gallery