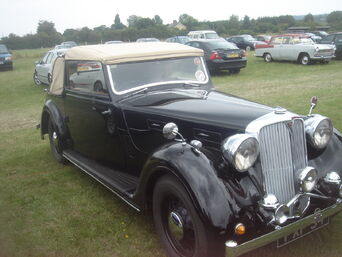 The Speed 20 was an automobile produced by Rover between 1931 and 1935. It is not known how many were made.
The Speed 20 had a 2565cc six cylinder engine. The engine incorporated overhead camshafts and pushrods. The engine originally was fed by a downdraught Zenith carburettor but this was changed to triple SU carburettors in 1933.
The engine was connected to a four-speed gearbox via a single plate clutch. The engine could produce 72bhp and propel the car to 85mph (137kmh).
The chassis was 9ft 3in long and has semi-elliptical leaf springs all round. The brakes were rod-operated.
A Rover Speed 20 won the RAC Rally at Brooklands in 1933 and 1934.
The four-seater version of the Speed 20 cost £485 when new in 1933.